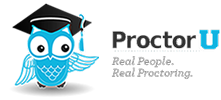 ProctorU is a live online proctoring service for test takers taking exams online. Their proctors use a three-step process to replicate the face-to-face proctoring experience over the internet.

Through this process, their proctors can see the test taker, see what they are doing and know who they are monitoring. They do this while adhering to the highest accreditation standards in the industry.
Pre-Exam Checklist for Students
If this is your first exam with ProctorU, please visit their webiste to check your equipment before logging in. Be sure to close out any other webcam software before you visit the page.
Be sure you are in a well-lit, quiet and private room. The lighting of your room must be daylight quality and overhead lighting is preferred. If overhead lighting is not possible please make sure that your light source is not directly behind you because it will make it difficult for your proctor to see you.
Please have your photo ID ready.
Please bring a reflective surface such as a CD, DVD or mirror. This is so you can show the edges of your monitor to your proctor.
Make sure your webcam, microphone and speakers are installed and working correctly.
Make sure your computer is in working order.
PROCTORU COST PER STUDENT
30 minute exam
$8.75
60 minute exam
$17.50
120 minute exam
$22.50
180 minute exam
$31.25
240 minute exam
$40.00