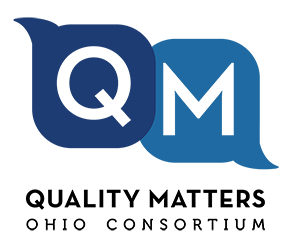 This workshop, sponsored by the Center for eLearning, explores the QM Rubric and provides a framework to improve the quality of online courses. Participants use the QM Rubric to review their own online courses and develop a course improvement plan.
The content is based on the essential Specific Review Standards of the Quality Matters Rubric. Participants come away with a plan for course improvement so enrolling in the workshop with a pre-developed online course is required.
**This workshop is part of the FOTD and Beyond series**
Recommended For:
Faculty, Adjunct Instructors and Instructional Designers with a course they want to improve.
Learning Objectives:
Recognize the foundational concepts of Quality Matters.
Apply the essential Specific Review Standards of the Quality Matters Rubric to your own online course.
Describe the alignment of at least one module/unit in your online course.
Prioritize improvements to your online course.
Prerequisites: Having taught or currently teaching an online course.
What Participants Need: An online course to improve.
What Should I Bring? All workshop materials will be provided for CSU participants. Registrants from other institutions will need to acquire the QM Workbook from the QM Coordinator at their home institution.
Seats Available: 12 participants total (internal and external).
Cost: FREE for faculty members teaching at an institution that is a member of the Ohio QM Consortium, such as Cleveland State. Coffee, snacks and lunch will be provided. Registration is required!
Date & Time: Friday, March 27th, 2020, 8:30am – 3:30pm. Registration will begin at 8:30am and class will begin at 9:00am.
Location: Cleveland State University's Michael Schwartz Library, RT 414. Details will be provided with registration confirmation email.
Registration: REGISTER TODAY! Registration deadline is Friday, March 20th, 2020.
Questions: Contact the Center for eLearning at elearning@csuohio.edu or 216.687.3960