What's in This Edition - Spring 2019
---
QM Ohio Consortium Annual Member Meeting

On May 1st, Cleveland State University and the Center for eLearning will be hosting the 2019 QM Ohio Consortium Annual Member Meeting! The event will take place on the 4th floor of the Wolstein Center and is free to all faculty and staff interested in the day's events! The meeting will host discussions and presentations on a variety of topics regarding Quality Matters initiatives and quality online course design. This event is also a perfect opportunity to network and collaborate with faculty and staff from over 60 Ohio QM member institutions. If you have a topic that you would like to present at the Annual Member Meeting we are accepting proposals for presentations through February 15th. You can also visit the QM Ohio 2019 webpage for more details on the event. If you are interested in attending, let us know and register now!
---
Blackboard Ultra Pilot

The Center for eLearning has launched a pilot of Blackboard's new Ultra platform for the 2018-2019 academic year. In Fall 18 several courses in the Masters of Educational Administration and Inspired Leaders Principal Licensure Certificate programs were delivered on the Blackboard Ultra platform as we begin to test out the environment for its wider release at CSU. We will be building on the success of last semester's courses by expanding the cohort of faculty delivering Ultra courses to more instructors from the programs listed above. If you would like your own firsthand experience with Blackboard Ultra you can enroll in Blackboard's free Educator Preview, and explore some of the courses they have built using the Ultra platform.
---
FOTD and Beyond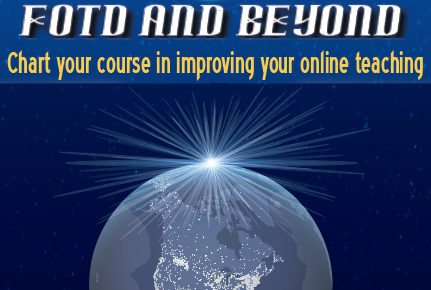 For the past 3 years the Center for eLearning has been delivering it's Faculty Online Teaching and Design course (FOTD). This two week course is designed to give instructors who are new to teaching in an online environment some hands-on experience with developing a learning module on Blackboard within the CSU Course Template. However, quality online education can't be taught in just two weeks. That's why the Center for eLearning has decided to extend its FOTD program to include additional learning opportunities on topics that dig deeper into specific elements of online facilitation.
Learning opportunities will include:
Online Teaching: Beyond the Basics

Proctor Tools for Your Online Course

Informal Course Review with an Instructional Designer

Pressbooks for Creating OER

Creating Accessible Word Documents

Creating Accessible PowerPoint Presentations

Library and Writing Resources for Online Learners and Instructors

Engaging Presentations with VoiceThread

Ally for Creating Accessible Documents
Better yet, participation in at least three of these activities will be rewarded with a stipend! To be eligible for the stipend participants must first complete the FOTD course, which will be delivered again this semester in an accelerated one week format over Spring Break. Register for the FOTD now, and stay tuned for future program dates, so you can take your online courses to infinity and beyond!
---
March for Best Practices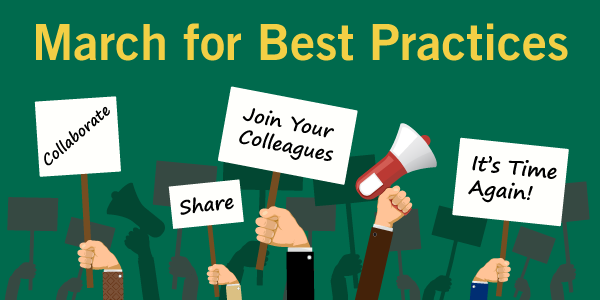 One of the Center for eLearning's most hotly anticipated events is back next month as the Center hosts its Annual March for Best Practices! This year's best practices event will include learning opportunities such as the FOTD course and Quality Matters' Improving Your Online Course (IYOC) workshop, as well as the return of last year's Roundtable Faculty Discussions! Read below for event details and registration information.
March 10th - March 17th: Faculty Online Teaching and Design Course (FOTD)
This facilitated online course provides an orientation to teaching online at Cleveland State and focuses on best practices for designing an online course. Participants will gain hands-on experiences in organizing a course and developing a learning module. This is a one-week accelerated offering. Prior participants have said this was also a great opportunity to have an experience as an online student!
NEW DATE: March 28th: Roundtable Faculty Discussion
Join your colleagues for roundtable discussions on topics relevant to online learning. Last year's discussions covered topics such as Open Education Resources, Strengthening Academic Integrity in Online Courses, FOTD and Beyond, Journey to QM Certification, and much more! This event will take place in Fenn Tower Room 303 (Ballroom) with lunch provided for those who register by Wednesday, March 20th.
March 29th: Improving Your Online Course (IYOC)
This workshop, sponsored by the Center for eLearning, explores the QM Rubric and provides a framework to improve the quality of online courses. Participants use the QM Rubric to review their own online courses and develop a course improvement plan.
The content is based on the essential Specific Review Standards of the Quality Matters Rubric. Participants come away with a plan for course improvement so enrolling in the workshop with a pre-developed online course is required.
---
Additional Center for eLearning Sponsored Events
The Center for eLearning will be hosting additional events throughout Spring 19 such as our monthly Blackboard User Group Meetings and presentations through the Center for Faculty Excellence. Keep reading for additional dates and registration info, and have a great Spring Semester!
Blackboard Best Practices User Group Meetings
Monday, February 25th, 2019 (Student Center 313/315)
Tuesday, March 26th, 2019 - March for Best Practices - (Fenn Tower 303 - Ballroom)
Wednesday, April 17, 2019 (Rhodes Tower 502)
Register for Blackboard User Group Meetings now!
Self-Paced Intro to Teaching with Blackboard Training
This is an ongoing self-paced training that can be compelted at your convenience!
Register for Teaching with Blackboard now!
Using VoiceThread to Create Community in Your Online Course
Tuesday, February 12th, 11:30am - 12:30pm (Face-to-Face, Brown Bag*)
Register for Using Voicethread now!
Ally for Blackboard
Tuesday, February 28th, 11:30am - 12:30pm (Face-to-Face, Brown Bag*)
Register for Ally for Blackboard now!