Terminology  |  Upgrade Phases  |  Preview Blackboard Ultra  |  Pilot  |  Questions | Known Issues
As we continue our migration to the new version of Blackboard, you will begin to see some changes to the look, feel and functionality to the system as a whole. We will be rolling out these updates in three phrases, the first beginning Fall 2017. To assist in the transition, this page will contain the timeline of the anticipated changes, the terminology we will use and the nature of the changes coming to Blackboard.

Terminology:
Learn 2016 Theme: The Learn 2016 theme for Blackboard Learn is a modern version of the user interface that incorporates elements from the new Blackboard design language including color, fonts and spacing for greater consistency between Blackboard Learn, Collaborate and the Blackboard App.
| blackboard Learn color palette | learn 2016 theme color palette |
| --- | --- |
| | |
| | |
Responsive Design: As the screen gets smaller, modules and tool tiles stack so you still has access to them at your fingertips. The responsive design elements of the Learn 2016 theme improve the user experience for anyone who wants access to their Blackboard Learn courses on their own schedule.
"My Institution" Tabs and Modules: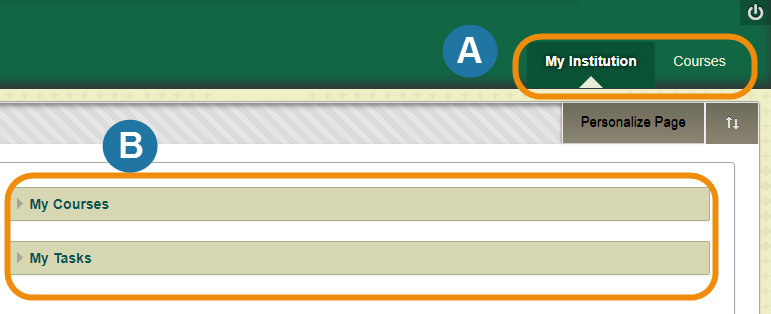 A. Tabs - Include My Institution and Courses
B. Modules - Include My Courses, My Tasks, My Announcements, Tools, etc.
Managed Hosting: Blackboard currently hosts our Blackboard Learn environment using their servers (not those at CSU). When updates need to be applied, the entire environment has to be taken offline to install them and then be rebooted. This is what causes the 12-hour+ windows of downtime once or twice a year.
SaaS (Software-as-a-Service): The cloud-based version of Blackboard Learn that updates seamlessly and users experience enhancements with zero downtime. The cloud allows Improvements and bug-fixes go into production faster than ever. This means learners and educators get the best experience possible, all the time.
Ultra Navigation: The left-hand navigation menu that remains persistent throughout all of your system activities in Blackboard. This menu provides quick access to courses, course activity, calendars, messages and grades.

Content Collection: In the Content Collection, you can store, share and publish digital content in personal, course and institution folders. When you want to edit content, you do so once and the updates appear throughout your work. You can share content by setting permissions for others and sending passes so that they can access it.
Community: Organizations behave like courses and contain tools that enable members to communicate efficiently. You can post information, have discussions and share documents. Organizations are an ideal place to connect with other users with whom you share interests or extra-curricular activities.
Ultra Experience: "Ultra" describes the transformation of the user interface and workflows in Blackboard Learn. The first thing you will notice about Blackboard Ultra is your name appears in the left panel of your window after you log in, above the Ultra Navigation. You can navigate to core features outside of your courses from the list. When you select any link from the list, you see a global view across all your courses. Access the global calendar that captures due dates in all your courses and the grades page that shows all your grading tasks organized by course. No need to navigate to each course to see what's ready for grading.  This list remains in view as you move from page to page—even when you're in a course. As you open pages, they open as layers. Close the layers to return to a previous page or the list. The Ultra experience will look the same at every institution.
Upgrade Phases:
Phase 1 (Fall 2017):
Color Palette - Beginning in Fall 2017, the Blackboard environment will be upgraded to the Learn 2016 theme. This theme will change the color palette throughout Blackboard. Instructors will no longer be given the option to use custom colors for the left-hand navigation bar in their courses. Fonts and font color are also automatically set by the Learn 2016 theme.
Responsive - This theme is fully responsive, meaning Blackboard will automatically scale for the screen of the device you are using. If you are using a desktop computer, you may not notice this scaling. However, if you are using a tablet or mobile device, Blackboard will now scale properly for the screen size. This makes it easier to navigate and read without having to constantly zoom in and out.
Accessibility - The Learn 2016 theme follows WCAG 2.0 principles and accessibility guidelines for structure, color contrast and navigation. Fully visible keyboard focus has been built directly into this theme, as well as best practices for the definition of buttons and menus used for navigation. ARIA landmarks have been added to improve screen reader navigation.
Phase 2 (Spring 2018):
Managed Hosting to SaaS - Over Winter break (late December, 2017), we will move our Blackboard services to the cloud. This will allow us to upgrade to new features and receive bug fixes with no downtime to our environment. Blackboard promises a minimum server uptime of 99.9%.
Course Navigation - There is no change to the way you interact with or build content within your courses.
Ultra Navigation - Ultra navigation adds a persistent system level menu to left-side of Blackboard. Blackboard will remove all of the My Institution tabs and modules and create a streamlined menu called Ultra Navigation. This system level menu cannot be customized. Course level menus (left-hand navigation in each course) remain unchanged and can still be customized as before. 

Content and Community - These additional services will be added to our Blackboard environment. Stay tuned for more information on how they will be implemented.
Removal of "My Institution" Tabs and Modules - The My Institution landing page as you know it today will no longer exist. See Ultra Navigation above for the description on how the new landing page operates.
Phase 3 (TBD):
Enable the Ultra Experience - In the Ultra Course View, you have simplified workflows, a modern look and feel and a fully responsive interface on all devices. On the Course Content page, select the plus sign wherever you want to create content. In a new, blank course, use the functions to add content, such as Create and Upload. Select the icons on the navigation bar to open frequently used tools, such as discussions. All of your course content appears in the main part of the page. You can always see the left navigation area that peeks from behind layers. Most content items, such as folders and assignments, have a menu with options. When you open a piece of content, it slides out in a layer on top of the Course Content page. Close layers to go back to a previous spot in your course.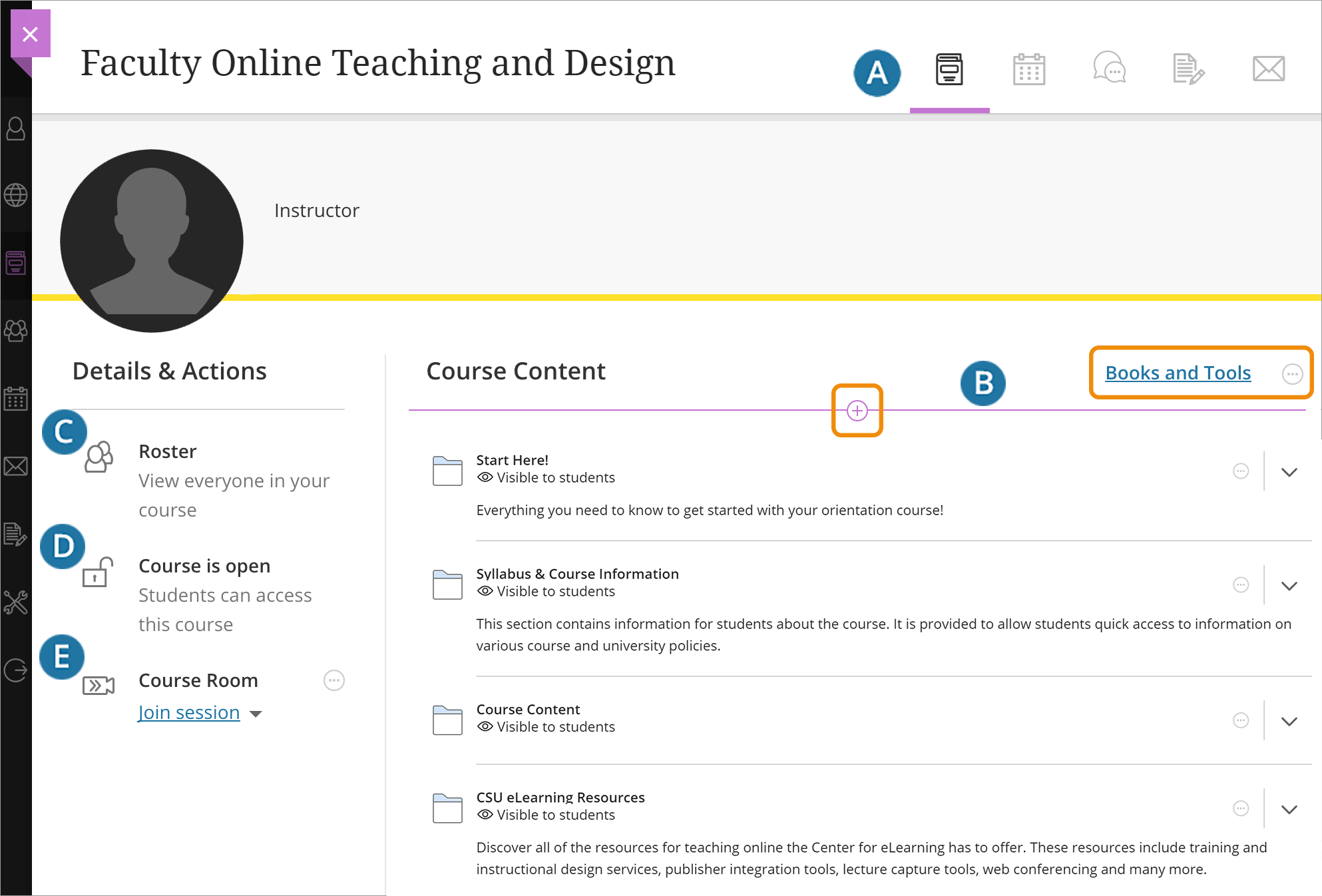 A. Navigation bar - Open frequently used tools in one step. Select an icon to check the course calendar, respond to class discussions, access the course gradebook, and send a message.
B. Add content - Select the plus sign wherever you want to add content. If you want to copy or import content, select the More options icon next to the Books and Tools link. In a new, blank course, use the functions to add content, such as Create and Upload.
C. Roster - View your class list. You can access basic profile cards and match faces to names. You can also send messages to anyone involved with your course.
D. Course availability -
Open: Open a course when you're ready for students to participate.
Private: Make a course private while you add or experiment with content, and then open it to students when you're ready. Students see private courses in their course lists, but they can't access them.
E. Course Room - Use the open Blackboard Collaborate session as a convenient launch point for scheduled and impromptu meetings.
Preview Blackboard Ultra:
Blackboard has created a free Educator Preview site (registration required) where you can interact with the new versions of Blackboard (Blackboard Learn with Ultra Navigation [Phase 2] and Blackboard Ultra [Phase 3]) and become familiar with the new workflows. The Educator Preview site is an easy way to test and play with the Ultra experience for Blackboard Learn. The preview is an early release of the Ultra Course View - you'll consistently see new workflows over time.
See a modern, simple user interface that provides quick access to the most critical information faculty and students want and need.
Play with the both the Original Course View - which contains all the features you're familiar with today - and the new, streamlined Ultra Course View.
Easily convert existing courses to the Ultra Course View or create a new course from scratch. You can also invite users (or yourself!) to experience your course from the student perspective.
You get four course shells to play with and use to build content. You will have two courses in the Original Course View (with Ultra Navigation) and two courses in the Ultra Course View so that you can experience both. You'll also get a demo course with exemplary content that demonstrates best practices and the Ultra Course View's potential.
Register today to access the Educator Preview of Blackboard Ultra
Pilot Program:
As we continue our path to Blackboard Ultra, we will be running a pilot program that will allow interested faculty to try the newest version of Blackboard in their courses. The pilot program will be open to everyone and will run during Summer and Fall semesters, 2018. We recommend courses that are flexible and can adapt to possible missing features (such as the unavailability of blogs and wikis). If you are interested in participating in this pilot program, please complete the Ultra pilot interest form.
Questions/Concerns:
We are embarking on a big change in the way courses are delivered through Blackboard. With that change comes questions, concerns, fear....all of the above. The Center of eLearning is here to help address all of these. Please feel free to email us at elearning@csuohio.edu, call 216.687.3960 or drop by our office in Rhodes Tower Room 201.