As a faculty member or advisor, you play a critical role in students' development by not only educating them in the classroom but also guiding the decisions they make about course offerings and career opportunities. Please send students to Career Services if they are:
Exploring interests and potential careers
Wondering what they can do with their major
Interested in applying for internships and jobs
In need of developing interpersonal skills
Struggling to describe their strengths and skills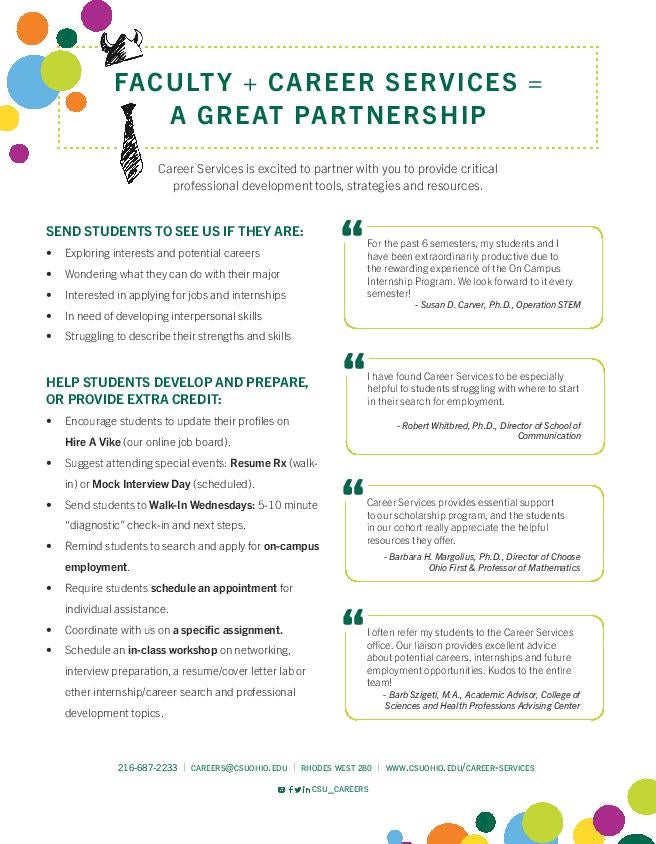 DOWNLOAD our Faculty Tool Kit
Our Faculty Tool Kit is a practical tool for preparing students for the world of work. It includes a guide for how faculty can partner with Career Services, NACE's career readiness competencies, our student map (which details how to support students through each phase of their professional development process) and more information on how Career Services partners with top employers seeking talented CSU students.
Here are additional ways to assist students...
 
Encourage Students to use Hire A Vike
This software hosts internships, jobs, co-ops and on-campus student employment. It is important for students to update their accounts and upload a resume in order to stay up-to-date on relevant career events and opportunities.
Support their Internship Search
Students should begin preparing their internship search materials to impress potential employers a semester ahead of time. When meeting with students, let them know that career specialists are available to assist them with all aspects of this process.
 
Don't Cancel That Class!
Things come up…..We get that! Rather than cancel a class, call or email us (preferably 24 hours in advance) and request a presentation on any of the topics listed below. We are happy to share knowledge on a wide variety of career-related topics.
Request a presentation here 
Integrate Career Services into Your Curriculum
Let Career Services support you in helping your students learn about the relationships between majors and careers. We can provide presentations on the following topics:
Career planning process
General job/internship search including major-specific resources
Resume and cover letters
Networking and informational interviews
Online networking through LinkedIn
Internship etiquette
The art of interviewing
Intro to Career Services (conducted by Career Peers)
 
Career Services Liaisons AND THEIR Respective Colleges
Career Services Staff
Liaison

Jessica Colombi
Executive Director
j.colombi@csuohio.edu

All Administrative and Campus Partners; Athletics; Any other student who needs assistance

Amy Goldman
Associate Director
216.687.3968
a.goldman02@csuohio.edu

Graduate Studies, College of Liberal Arts & Social Sciences and Alumni Relations

Karen Lieske
Assistant Director
216.687.5537
k.lieske@csuohio.edu

Business and Education

Lynn Leon
Career Specialist
216.687.5403
l.s.leon@csuohio.edu

Business, Engineering, Nursing and Law

Elaine Suarez 
Career Specialist
216.687.2240
e.suarez@csuohio.edu

Urban Affairs and College of Liberal Arts & Social Sciences

Kyle Znamenak
Career Research and Data Specialist
216.687.2247
k.znamenak@csuohio.edu

College of Science & Health Professions