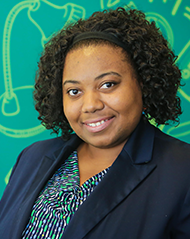 Stephanie Nunley
Administrative Coordinator
s.nunley@csuohio.edu
216.687.5535
As a Cleveland native, I have had a front row seat to all of the growth at Cleveland State and I am excited about where we are headed. I choose Cleveland State because of the great opportunities that are available both on and off campus. With the City of Cleveland in our backyard, CSU is uniquely placed for partnerships and engaged learning experiences. At CSU, the opportunities really are endless!
What's your favorite spot on the CSU campus and why?
The 18th floor of Rhodes Tower is my favorite spot on campus. It has amazing panoramic views of downtown Cleveland and the lakefront. It also has a great little private library that is put together by the Department of English — a great place to study.
Why do you think that more and more students are choosing CSU?
Students are choosing CSU because of our great location in the heart to downtown Cleveland, the amazing professors that provide an engaged learning experience and one of the best price points in the state. Cleveland State University has the three G's — great professors, great price and we are in a great location.
If you had your own Magnus outfit, where would you wear it?
I think that the better question is where would I NOT wear a Magnus Outfit? I would go everywhere from The Rock & Roll Hall of Fame, the Great Lakes Science Center, the historic West Side Market, and, of course, Playhouse Square to take a selfie under the world's largest outdoor chandelier. 
What advice do you have for students who are choosing a college?
Apply early and take the campus tour! The campus tour will tell you so much about the college and what it has to offer. Visiting campus will give you a clear indication of campus life and will help you pick the school that is right for you.