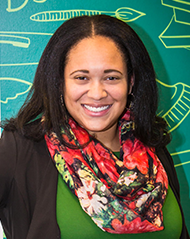 Samantha Broaddus
Senior Admissions Counselor
216-523-7418
s.broaddus@csuohio.edu
CSU offers endless opportunities at the fingertips of their students through engaged learning fostered in an urban environment.
I focus on the Cleveland Metropolitan School District as well as some southeastern Ohio counties.
What is your favorite spot on the CSU campus and why?
I absolutely love "Elements Bistro on Euclid!"  They serve many types of meals, including pasta dishes, pierogies and sandwiches.  Every item that I have eaten there is amazing, and it is right on CSU's campus!
If you had your own Magnus outfit, where would you wear it?
I would definitely wear the Magnus suit to see some Vikings Hoops.  What better way to sneak into the Wolstein Center for a free basketball game?
What advice do you have for students who are choosing a college?
Students and their families should sit down and list the things that are important to them and their impending college experience. There are so many questions to be answered when you are looking for schools to attend: "Do you want to live on campus or commute?" "What majors does the school offer that will help the student reach their goals?" "What size university do you want to attend?" and so on.  The university that you select will be the one that aligns with your list!
What is your favorite CSU tradition?
The Cleveland-Marshall College of Law was the first evening law school in the state and was the first to admit women and People of Color.
What is your favorite CSU fun fact?
I am a comic book film junkie and quite a few comic book movies have been filmed in and around CSU's campus!