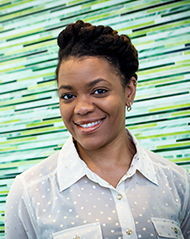 LaQuita Rouse-Germany 
Assistant Director, Admissions Operations
l.rousegermany@csuohio.edu
216.523.7243
Cleveland State University has changed and evolved so dramatically and no two years are the same. We continue to be a dynamic, best-in-class urban university because of our quest to provide quality, unmatched services to students, parents, and our community partners alike.
Favorite place on campus?
My favorite place on campus to study is the Law Library. It's open to all students, has many quiet study carrel areas, and there are available group study rooms. My favorite place on campus outside of studying is the Student Center. There's always really good food, good energy, and good "people watching."
Why choose CSU?
I chose CSU because the Maxine Goodman Levin College of Urban Affairs offered a program in Urban Services Administration when most other colleges did not. In addition to offering this program, the faculty and staff were very welcoming and extremely knowledgeable about the field. By completing this major, I was able to participate in seminars at all levels of government in Columbus, Ohio, Washington D.C., and here in Cleveland, Ohio – an opportunity unmatched by the other universities I considered during my search.  
Best advice for the college search?
Apply to at least four types of institutions – an in-state school, an out-of-state school, your number one choice school, and, lastly, a safe and secure choice school. The categories may cross when considering any one institution and that's okay. Ultimately, you want to ensure that you have options and that you apply early to these institutions as your financial aid and scholarships may change your ultimate decision. Preparing for these possible changes will help in the long run!
Favorite class in college?
Psychology 385: Motivation and Behavior. Learning the motivation behind behaviors and the thought processes of individuals was very intriguing. The professor was also very engaging and knowledgeable on the subject.
Best question to ask on a college tour?
Ask your tour guide why he/she chose the university and what he/she likes the least and the most about the institution. Tour guides are current students and their perspective is closest to the classroom and other student activities.
Favorite CSU Fun fact?
Students who are admitted into and successfully complete the Honors College Programming are automatically offered admission to the Cleveland-Marshall College of Law!