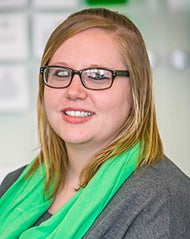 Courtney Glover
Senior Admissions Counselor
c.a.glover@csuohio.edu
216.523.7401
Cleveland State University is a great institution with so much to offer to so many! From excellent faculty and staff to multiple opportunities to gain experience and engage inside and outside of the classroom-CSU is the place where that exists. If you want to study on a campus in the heart of a big city, we are the place for you.
I focus on high schools in Medina, Portage, Stark, Summit, and Wayne counties and the Warrensville area schools.
What is your favorite spot on the CSU campus and why?
The student center is probably my favorite spot on campus because it has a lot of great places to eat and is always filled with students. 
Why do you think that more students are choosing CSU?
I think that more students are choosing CSU because of the quality and location. Students have the opportunity to receive a great, affordable education while maintaining easy access to the city of Cleveland.
If you had your own Magnus outfit, where would you wear it?
I would wear it to a Cleveland State sporting event!
Describe a time when you felt the greatest sense of CSU pride.
I moved to Ohio from Wisconsin about four years ago. I always feel the most CSU pride when someone from my home state applies. It makes me excited that they discovered a place that I have come to love!
What advice do you have for students who are choosing a college?
Take the time to really learn about the college that you are interested in. Research its history and mission to see if it is a college where you can stand by what they stand for.
What's your favorite CSU fun fact?
As a former teacher, one of the things I love about CSU is that it runs the Campus International School in partnership with CMSD.