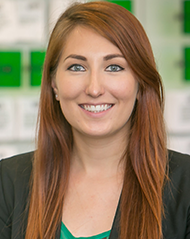 Mackenzie Albach
Senior Admissions Counselor
m.albach@csuohio.edu
216-687-9344
CSU not only provides you with a great classroom experience with highly recognized, supportive faculty, but CSU also engages you with the community. Internships, co-ops and volunteer experience are all so important for a well-rounded education. Having access to all of the fun events in downtown Cleveland is a bonus!
I focus on high schools in the Parma area as well as New York, Pennsylvania and other states throughout the country.
What's your favorite spot on the CSU campus and why?
My favorite spot on campus is the Fenn Tower Ballroom. Fenn Tower's architecture is so beautiful and, because it was one of CSU's first buildings, it reminds me of CSU's history!
Why do you think that more and more students are choosing CSU?
There are so many great ways to engage with the city that CSU is a no-brainer! Whether it is internships, co-ops, volunteer experiences or just having fun going to concerts, sporting events and shows at Playhouse Square! Students here are never bored and I think that's why students choose CSU.
If you had your own Magnus outfit, where would you wear it?
I would definitely wear my Magnus outfit to the Indians game to see if I could partake in the mascot hotdog races! Although I wouldn't actually be a hotdog and I definitely wouldn't win, it's a Cleveland Indians tradition that would be a blast to be a part of!
Describe a time when you felt the greatest sense of CSU pride.
I felt so much CSU pride when the University helped to host the 2014 Gay Games in Cleveland. It was a huge success and showcased how much CSU appreciates diversity on our campus.
What advice do you have for students who are choosing a college?
Pay attention to whether or not the campus is under construction. I know it may seem like an inconvenience at first, but all of those orange cones and caution tape lines are a good thing! It means your college is reinvesting your tuition dollars in to your campus community.
What's your favorite CSU fun fact?
Captain America: The Winter Soldier was filmed on our campus and all around Cleveland! Having all sorts of famous people here was such a cool experience, as was seeing all of the places I frequent blowing up on the big screen!