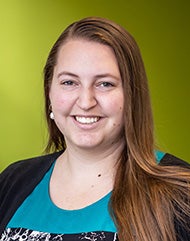 Rachel Rose
Admissions Counselor
r.i.rose@csuohio.edu
216.523.7414
Have questions for Rachel? Schedule a one-on-one virtual appointment with her here!
Here at CSU in the heart of downtown Cleveland, our passionate and engaged students can pursue their academic interests with faculty who are at the top of their fields and conducting relevant, impactful research. And we are so lucky to be in such a uniquely exciting city which has the second largest theatre district in the country, Playhouse Square, as well as Fortune 500 companies and three professional sports teams (the Browns, Cavaliers, and Guardians) all within easy walking distance of campus.
What is your favorite spot on the CSU campus and why?
My favorite spot on campus is the Student Rec Center because they offer great ways to stay healthy and de-stress like getting a massage from one of their licensed massage therapists.
If you had your own Magnus outfit, where would you wear it?
I'd wear my Magnus outfit to orientation to greet our new students and inspire that Viking spirit!
What advice do you have for students who are choosing a college?
My advice for students is to choose the college that feels like home. College is a massive life choice so you want to choose somewhere where you can pursue your passions academically, and where you feel personal connection and support within the campus community.
What's your favorite CSU tradition?
My favorite CSU tradition is the Glow Party in the Student Center.
What's your favorite CSU fun fact?
Our School of Music students are being trained and mentored by six members of the Cleveland Orchestra on our Faculty.