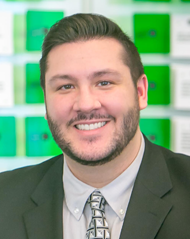 Nick Grady
Assistant Director, Recruitment
n.grady@csuohio.edu
216.687.2274
Here at Cleveland State University, our campus community is at the forefront of downtown Cleveland and not only experiences the city's growth and revitalization, but contributes to it as well. With over 200 academic majors from which to choose, students are able to obtain the knowledge and real-world experiences needed to propel forward and succeed in their careers while enjoying the many benefits of life at CSU.
What's your favorite spot on the CSU campus and why?
My favorite spot on campus is the Washkewicz College of Engineering. As our newest building, Washkewicz features high-tech, state-of-the-art classrooms and collaborative study spaces with great views of the surrounding campus environment.
Why do you think that more and more students are choosing CSU?
Students choose CSU due to the reputation of our academic programs, access to scholarships, affordability and all-around fun campus environment. Students take comfort in knowing that they will be supported and challenged to excel in and out of the classroom. Our unique location in downtown Cleveland also provides students easy access to employment opportunities and a wide variety of entertainment options just down the street from their resident hall or apartment.
What advice do you have for students who are choosing a college?
Utilize your resources and never be afraid to ask questions. Sometimes the college search process can seem like information overload, but starting early and keeping in contact with your admissions counselor makes it easier. Most importantly, remember that finding the right college means finding the right fit. Visit campuses you're interested in, have fun and keep an open mind throughout the process!
What's your favorite CSU fun fact?
Our mascot, Magnus, made it to the finals of the Mid-Major Madness Mascot Melee Championship and is ranked as one of the nation's best!