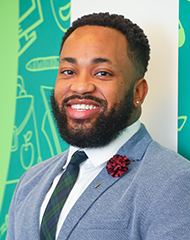 Martez Glenn
Senior Admissions Counselor
m.glenn22@csuohio.edu
216.523.7418

Have questions for Martez? Schedule a one-on-one virtual appointment with him here!
CSU is an amazing urban institution located in the heart of a major U.S. city. The faculty and staff are passionate about every student's success while they matriculate here at CSU. Engaged learning is more than just a tagline, it is an array of endless opportunities both inside and out of the classroom with real-life experiences. With over 175 academic programs in 10 colleges, our students take advantage of more than 3,000 internships and co-ops each year.
I focus on high schools within the Cleveland Metropolitan School District, Mahoning County and Southeast Ohio counties.
What's your favorite spot on the CSU campus and why?
The Student Center is my favorite spot on campus because it allows you to get involved in different activities and fairs that take place throughout the year. It also allows you to engage in the rich diversity and culture of CSU students that pass through, even if it is just for a quick bite to eat.
If you had your own Magnus outfit, where would you wear it?
I would wear my Magnus outfit to several classes right before a major exam to encourage students not to stress before their exam.
What advice do you have for students who are choosing a college?
When choosing a college, I believe that it is imperative to visit as many campuses as possible and ask as many questions as possible. Once you narrow down your search to your top three choices, think about how each college will benefit you holistically from the academics to on-campus living or nearby living accommodations and how that institution overall will help aide in your professional development to take on the workforce with pride and integrity.
What's your favorite CSU fun fact?
CSU has a cool InnerLink that will allow you to travel from class to class and building to building without going outside. To me, this is cool because the climate inside of the InnerLink is adjusted to the different seasons for comfort.