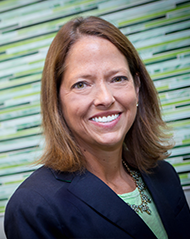 Lee Furbeck
Director, Undergraduate Admissions and Student Transition
l.furbeck@csuohio.edu
216.523.7417
Welcome to Cleveland State University! CSU really is young, hip and urban. We're in the middle of the action and so are our students. They get out and they get jobs. This is the place to be.
What's your favorite spot on the CSU campus and why?
The Urban Building (home to the Maxine Goodman Levin College of Urban Affairs) is really right downtown. I love being able to look out and see the mix of students, professionals and people just out for a walk with their dogs at lunchtime.
Why do you think that more and more students are choosing CSU?
I think that today's students are looking for a different kind of college experience, and that's why urban universities across the country are growing. For many, CSU is an affordable choice for an exceptional education. As a destination school, CSU and the city of Cleveland offer city-living and an opportunity to leave a smaller footprint. For everyone, CSU is uniquely positioned to offer experiential learning via our many corporate, educational, nonprofit and city partnerships. Our graduates begin their careers poised for success.
Describe a time when you felt the greatest sense of CSU pride.
I feel CSU pride every time one of our faculty wins an award or publishes an important paper or book. My favorites are those that focus on the city itself and how CSU is contributing to the Greater Cleveland area. I am also very proud to be a part of the CSU family on the first day of classes in the fall. It's great to see so many people on campus, and I am thrilled to have been able to help some of our new students get here.
What advice do you have for students who are choosing a college?
Keep an open mind and visit any campus that you are seriously considering. The school that was right for your neighbor might not be the best choice for you. Check out a variety of campus types and sizes — including an urban public! You might be surprised by what you see.
What's your favorite CSU tradition?
I love attending CSU basketball games. There's always some sort of fun activity going on, and the basketball is great, too!
Reveal one secret about CSU or the CSU campus.
Many of the staff who work at CSU are also students here. Everyone here believes very strongly in what CSU has to offer and loves to share their enthusiasm.