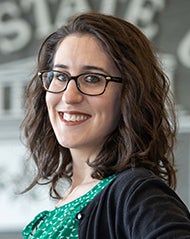 Jes Newell
Administrative Coordinator
j.e.newell@csuohio.edu
216.687.5535
My territory is the Admissions office. I help the Admissions staff with everything they need for visiting their regions.
What's your favorite spot on the CSU campus and why?
As an alum, one of my favorite parts of campus is Mather Mansion. It has beautiful wood carvings throughout the building and is so historical to both Cleveland and the University.
As a student, what did you appreciate most about your CSU experience?
As a student, I appreciated the opportunity to take ownership of my educational experience. I scheduled my classes in advance and worked hard to seek out internship opportunities that allowed me to learn more about my career before I graduated.
If you had your own Magnus outfit, where would you wear it?
On a river boat, of course!
What advice do you have for students who are choosing a college?
Take the time to not only research your major, but also research the businesses in the area where you will be attending school. That will prepare you to know what types of internships or part-time jobs might be available to really enhance your learning experience.
What's your favorite CSU tradition?
Attending Almost Alumni dinners, or just spending time in the student center or commuter lounge during common hour.
What's your favorite CSU fun fact?
The Michael Schwartz Library (located in Rhodes Tower) houses the Cleveland Memory Project, which is a free searchable online collection of digital photos, texts, oral histories, videos and other local history resources. I always find myself looking for photos of old Cleveland and imagining what the city looked like 100 years ago.