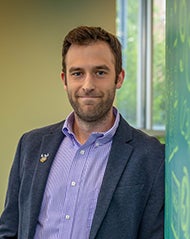 Jacob Ott
Admissions Counselor
j.s.ott@csuohio.edu
216.523.7376
Have questions for Jacob? Schedule a one-on-one virtual appointment with him today!
First off, I want to say thank you for your interest in Cleveland State University, and I am pleased you are considering joining us on campus! CSU is a bustling and lively campus next to downtown Cleveland where you are in the heart of everything great our city and school has to offer. We are next door to one of the best performing arts districts in the country, a few miles from one of the best orchestras in the world, and we work collaboratively with the Cleveland Clinic—one of the top hospitals in the world as well. Having been a Cleveland State grad myself, I am very aware of what it is like to be a student on campus and to be a part of our diverse culture here. I look forward to meeting you during your campus visit!
What's your favorite spot on the CSU campus and why?
From my years as a grad student, either Julka Hall or the Rec Center. I spent a lot of time in Julka doing homework and studying in their computer labs and common areas. It is a great space because of all the natural lighting! The rec center, and specifically our awesome aquatic center, is where I enjoy the opportunity to decompress from the day and work out. 
As a student, what did you appreciate most about your CSU experience?  
As a student, being exposed to a very diverse and talented student body was something I appreciated greatly. Having the opportunity to work and learn alongside people with a wide array of backgrounds and cultures allowed for me to grow more as a person.
If you had your own Magnus outfit, where would you wear it?
I would probably wear a Magnus outfit to a basketball game. If we made the NCAA tournament again soon, I'd gladly wear it for a tournament game!
What advice do you have for students who are choosing a college?
Think about jobs after college. Even if you don't have a major in mind, consider how your education will provide you with necessary real-world and hands-on experience. What school provides you with valuable internships, job training opportunities, things of that nature. When you are on campus visiting and doing a tour, imagine what it would be like to live there.
What's your favorite CSU tradition?
Maybe not a tradition, but first day of classes in the fall. Great opportunity to see new faces, make new friends, meet new professors. It can be scary, but very exciting at the same time. 
What's your favorite CSU fun fact?
We have 3 student run newspapers/publications!