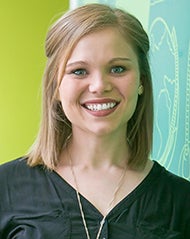 Holly Hemminger
Coordinator, Campus Visits and Alumni Recruitment
h.hemminger@csuohio.edu
Cleveland State University is clearly a special place to be with rich opportunities throughout downtown Cleveland, an engaged and diverse student population and passionate staff and faculty. I have the pleasure of coordinating campus visits, alumni recruitment efforts and serving as an energetic member of the admissions team through new student orientation and other events.
What's your favorite spot on the CSU campus and why?
I love the upper outside deck in the Student Center. Not only is it a spot full of CSU spirit and life, but it is also amazing to walk outside and see a perfect view of downtown Cleveland and the lights of Progressive Field.
What advice do you have for students who are choosing a college?
Make sure it is a right fit for YOU. It is important to learn what is important to you and find a school that matches that those values. Also, speak to current students and faculty members in the program you are hoping to study.
What's your favorite CSU tradition?
I don't have one yet, but am excited to witness and experience them all!
What's your favorite CSU fun fact?
Captain America was filmed on our campus in the Physical Education building!