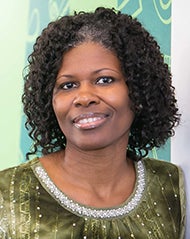 Elizabeth Meadows
Senior Admissions Counselor
e.a.meadows70@csuohio.edu
216.523.7222
Have questions for Elizabeth? Schedule a one-on-one virtual meeting with her today!
Cleveland state University has a lot to offer. It's a great place to connect with professors, engage with the community and obtain internships to build your professional career.
I focus on high schools in Southeast Cuyahoga County, Medina, Portage, Stark, Summit and Wayne counties.
What's your favorite spot on the CSU campus and why?
My favorite spot is the Student Center — it's the heart of the campus.
As a student, what did you appreciate most about your CSU experience?
The diverse population, the many quiet study areas on campus, easy access to faculty and the closeness to downtown.  
If you had your own Magnus outfit, where would you wear it?
I would wear it to some of the Cleveland Cavaliers games.
What advice do you have for students who are choosing a college?
When choosing a college, consider your needs and what the school has to offer, especially when it comes to opportunities, finances and academic support.  
What's your favorite CSU tradition?
The Orientation sessions and campus tours available to students and their parents.
What's your favorite CSU fun fact?
The InnerLink — the option to travel from one building to another without having to go outside.