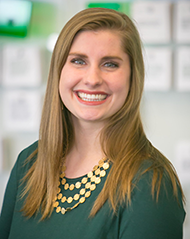 Breegan Arnett
Senior Admissions Counselor, Arts
b.n.arnett@csuohio.edu
216.523.7414
I focus on students interested in our arts programs here at CSU. Specifically, those pursuing a Bachelor of Arts with any emphasis (Fine Art, Art History, Design, etc.), Theatre and Dance, Film and Media Arts and Interactive Media. 
What's your favorite spot on the CSU campus and why?
My favorite spot on campus is the Middough Building. This contains the majority of our Arts Campus and is located in Playhouse Square — the second largest theater district in the United States! Our theatre, dance and film students perform shows and film productions in downtown Cleveland right in Playhouse Square. This provides hands-on, engaged learning opportunities with real-world professionals!
As a student, what did you appreciate most about your CSU experience?  
As a student, I particularly appreciated the smaller class sizes at CSU. This gave me an opportunity to get to know my peers and professors as well as a chance to shine in class. The more personalized teaching matched my learning style. In my opinion, CSU's medium-sized, urban campus is the perfect student learning environment.
If you had your own Magnus outfit, where would you wear it?
If I had my own Magnus costume, I would wear it to a Cleveland Orchestra concert in Severance Hall! I probably wouldn't be permitted to attend a world-class orchestra concert in such attire, but it would be fun to see the reactions on the audience members' faces as I walked in wearing it.
What advice do you have for students who are choosing a college?
My advice to prospective students is to take a close look at extracurricular activities and organizations on campus. Being involved while you're in college will immensely enhance your experience and will leave you with countless positive memories as you look back on your undergrad days. With 18 Division I sports, a dozen arts/drama/music programs (for majors and non-majors) and more than 200 campus clubs/organizations, CSU has what you're looking for.
What's your favorite CSU tradition?
My favorite CSU tradition is Fall Visit Day. It's such a fun event, as well as an extremely helpful tool for prospective students and their families. Fall Visit Day occurs every year in either September or October, and I'd love to see you at the next one.
What's your favorite CSU fun fact?
My favorite CSU fun fact is that almost all of campus is connected by a sky bridge system called the InnerLink. This provides our students with the opportunity to get from one end of campus to the other without having to go outside during the cold Cleveland winter.