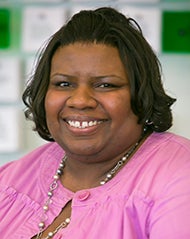 Blair A. Suttles
Coordinator, Transfer and Non-Traditional Student Recruitment
b.suttles@csuohio.edu
216.687.2011

Have questions for Blair? Schedule a one-on-one virtual meeting with her today!
I work with transfer students from Cuyahoga Community College, post-baccalaureate students, community college partnership programs and our adult and returning learners. 
What's your favorite spot on the CSU campus and why?
My favorite spot on campus is the green space between Main Classroom, the library and the student center. It is the perfect spot to eat lunch on a sunny day and observe the exciting things that take place on campus.
As a student, what did you appreciate most about your CSU experience?  
I truly appreciated the support of my academic advisor. My academic advisor worked with me to make sure I stayed on track for graduation and was an invaluable resource.
If you had your own Magnus outfit, where would you wear it?
Everywhere! I would love to show off my CSU pride by wearing a Magnus outfit.
What advice do you have for students who are choosing a college?
Consider all that a college has to offer. While academic reputation should be an important factor in selecting a college, also consider academic support services, internship opportunities and campus life.
What's your favorite CSU tradition?
My favorite CSU tradition is international student orientation. It's a great opportunity to see new students from all over the globe.
What's your favorite CSU fun fact?
One of my favorite things about CSU is our partnership with Playhouse Square. I'm a huge theater fan, so I think it's really cool that our students get to work so closely with theater professionals from Playhouse.