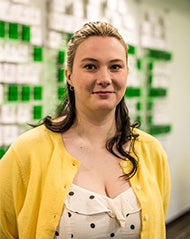 Baelee Wehlburg
Administrative Coordinator
b.wehlburg@csuohio.edu
216-687-5535
Cleveland State University is home to unique and dynamic students seeking to further themselves and their communities.
If you had your own Magnus costume, where would you wear it?
I would love to wear the Magnus costume to a Cleveland Guardians game and see if I could participate in the hot dog race!
What advice do you have for students who are choosing a college?
The college decision process is one of the most challenging and rewarding processes of your life, so enjoy it while it lasts and, most importantly, remember what values are important to you and seek a future that aligns you to them!
What's your favorite CSU tradition?
The partnership with the Cleveland International Film Festival. 
What's your favorite CSU fun fact?
Cleveland State University was originally founded by the YMCA in order to serve students for whom college might have otherwise been unattainable!