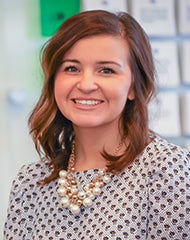 Ashley Brown
Assistant Director, Communications & Operations
a.brown8@csuohio.edu
216.523.7243
CSU is a dynamic place with a diverse population. Our students have access to more than 3,000 internships and co-ops each year, 200 student organizations and a vibrant downtown campus. On top of all this, students benefit from our 17:1 student to faculty ratio as they develop meaningful relationships with supportive faculty. At CSU, we work hard to see our students achieve their goals, and we look forward to helping you.
What's your favorite spot on the CSU campus and why?
My favorite spot on the CSU campus is the Student Center. The Student Center is a beautiful building, full of energy, where you will find students engaging in conversation and fun activities.
If you had your own Magnus outfit, where would you wear it?
If I had a Magnus outfit, I would wear it to my next race. Being Magnus would help me channel my inner Viking and run like a warrior.
What advice do you have for students who are choosing a college?
As you are choosing your college, never be afraid to ask questions. It's important you feel confident in your decision.
What's your favorite CSU tradition?
I love how many students will take a picture in their "class of" T-shirt with the fountain in the Student Center Plaza during Orientation.
What's your favorite CSU fun fact?
One of the residence halls, Fenn Tower, was the original building for Fenn College and was later transformed into the modern residence hall space.