Cleveland State University is pleased to offer academic programming at West Center. As on Main Campus, West Center is fully committed to academic excellence and student success.
College of Education and Human Services
Our mission is to prepare professionals who reflect our commitment to educational excellence across the life-span through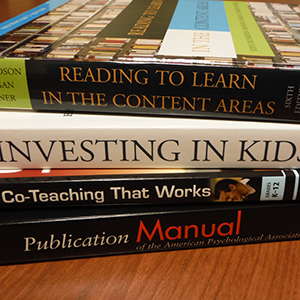 teaching, research, and service focused on leadership, social justice, and partnerships in addressing contemporary urban needs. Our core values demonstrate the close relationship of the college and university mission.
The college achieves its mission and observes its values by developing innovative, flexible ways to connect with its clients to deliver quality educational programs and develop partnerships that provide responsive urban solutions. We are committed to demonstrate the "vitality that comes with risk" called for in the university mission.
"The educational administration and supervision program is based on conceptual framework of the Administrator as a Visionary Practitioner," said Professor Fred Hampton Ph.D. " Graduates acheive outcomes reflecting the five knowledge bases that compose this model: organizational change, relational, developmental, contextual, and ethical. These knowledge bases are applied to the programs within the environments or urban and suburban schools, which are diverse and include students with disabilities."
Counseling, Administration, Supervision, and Adult Learning (CASAL)
Click here for more information about the Administration and Supervision Program.
CASAL also offers the nationally-accredited Superintendent Licensure Program.
Dr. Mark Freeman, Director of the Superintendent Licensure Program, is Executive in Residence at Cleveland State University. He was named Superintendent Emeritus of the Shaker Heights City School District in 2013 after serving as District Superintendent for 25 years. During Dr. Freeman's 48-year career in education, he has taught young children, adolescents and adults in a variety of settings.
The Superintendent Licensure Program has received national accreditation from the NCATE Educational Leadership Constituent Council. It is available to educators who have a valid Professional Teacher License and have had three years' experience under a Principal or Administrative Specialist License. 
For questions about the program, please contact Dr. Freeman at (216) 687-4618 or m.freeman89@csuohio.edu.
Monte Ahuja College of Business
"Driving the global significance, economic vitality, and sustainability of the northeast Ohio region through business education, research, innovation, leadership and collaboration," is the mission statement of the Monte Ahuja College of Business.
The academic programs at the Monte Ahuja College of Business are designed to meet the needs of full-time students as well as professionals. Here you're part of a well-respected institution that's always looking for ways to give you more—to find innovative methods for delivering the education you want and the practical knowledge you need.
The Monte Ahuja College of Business Administration offers a world-class MBA degree. All of our programs are accredited by the Association to Advance Collegiate Schools of Business (AACSB), the hallmark of quality in management education worldwide. 
Here at the West Center is the Accelerated Master of Business Administration. For more information on this, click here.