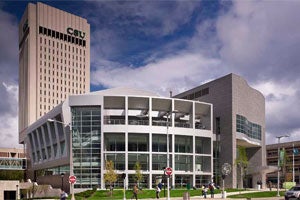 The primary benefit for the veteran attending Cleveland State University is the Veteran Student Success Program (VSSP). This program is designed to assist in the transition of a military veteran entering or returning to the academic community. The program provides not only for the veteran beginning studies at Cleveland State University but for the veteran throughout his or her career at CSU. This program is a commitment on the part of the university to those who have served our country. In collaboration with the Veteran Student Success Program, the Department of Veteran Affairs has a full time VetSuccess on Campus Counselor assigned to the campus of CSU. If you have served or are serving this country on active duty or in the Guard or Reserve, you and your family are invited to become students at Cleveland State University and to use this program.
Cleveland State University offers over 200 programs leading to Bachelors, Masters and Doctorate degrees. It is a modern and vibrant urban campus that easily melds with Cleveland itself while providing an academic oasis within the city. It excels in academics, has been selected as one of America's Best Colleges by U.S. News & World Report and consistently produces a large number of Fulbright Scholars. Cleveland State University excels in more than academics, though, as it has produced champion teams in NCAA Division I sports. Cleveland State University also offers the advantage of being in Cleveland, one of this country's most livable cities.
Next door to the university is one of the oldest and most unique theater complexes in the country. It is minutes from downtown and a short drive or bus ride from University Circle, the site of many of the city's cultural organizations, including the world class Cleveland Orchestra. Professional sports are a part of the city fabric, while individual athletic pursuits are available on campus or in one of the most unique and best regional park systems in the country, the "Emerald Necklace". Of course Cleveland also has Lake Erie and all that a Great Lake has to offer. The city has an extraordinary collection of independent and reasonably priced restaurants, is a transportation hub, and has a relatively low cost of living. It is friendly to single people and is a good place to raise children for veterans with families. In short, Cleveland is a great place to live.
On this site you can learn more about our program for veterans attending Cleveland State University, about the wealth of Veteran Affairs facilities and veteran services organization in Cleveland, and about Cleveland itself.
You can always contact us at: VikingVetsCSU@gmail.com