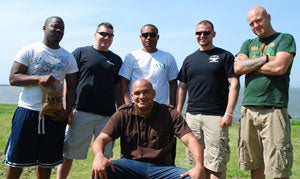 Veterans-only "Introduction to University Life". This is a required general education course modified to cover veterans' transition concerns as well.
"Veterans-friendly" general education courses (sections of courses). General education courses are best taken during your first and second year of college. We offer sections of courses restricted to veterans and taught by faculty who are veteran friendly. This is a part of the transition process.
VetSuccess on Campus Program provides counseling and assistance on all aspect of federal veterans benefits with a focus on education benefits. The VA VetSuccess on Campus Counselor is located in the VSSP office and is available daily.
We work closely with other university departments and programs as well as the VA to provide you with vet friendly assistance for many academic and readjustment needs.
Student Veterans of America, Cleveland State University Chapter - Viking Vets. Enjoy the company of other veterans and engage in service to the community as a member of the Student Veterans of America. You can find the CSU Viking Vets on Facebook.
Veterans Day Room – when you need a place to study, work on a computer, have lunch or a snack or simply relax you can do so in a veterans-only room in the Main Classroom Building, MC 148. With computers, a refrigerator, microwave, and toaster oven, you will find the Day Room to be an inviting stop during your day.
Welcome to your next mission – you
You can always contact us at: VikingVetsCSU@gmail.com