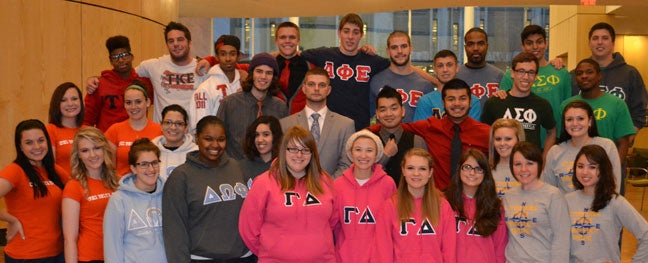 Greek Week 2014
Monday, April 14
Greek Showcase
MC Auditorium
8pm-10pm
Tuesday, April 15
Lunch & Letters
SC Atrium
11:30am-12:45pm
Wednesday, April 16
GreekCess
Greek Only + Invite
RSVP
MAC Gym, Rec. Center
8:30pm-10:30pm

Thursday, April 17
SpringFest
Greeks are volunteering
All Day

Fraternity/Sorority Life Banquet
Greek Only + Invite
RSVP
SC Ballroom
8pm-10pm

Friday, April 18
Inflatable Party
Greek Only + Invite
RSVP
SC Atrium
7pm-10pm
<!--
The Department of Student Life is excited to sponsor fraternity and sorority students to attend a national session of the Undergraduate Interfraternity Institute (UIFI) this year. UIFI is a 6 day leadership program in which fraternity and sorority leaders from across the country come together - with skilled facilitators - to create opportunities to explore, define, and enhance their leadership skills, personal awareness, commitment to their fraternity or sorority, and grow to expect values based action from themselves and those they lead.
The dates of this years available sessions range throughout the summer and all sessions are held in Bloomington, Indiana on the University of Indiana campus. Students will have the opportunity to work with Jill Courson to select the session that works best with their schedule.
This application (https://orgsync.com/31718/forms/72713) is your opportunity to tell us why you would like to attend UIFI. The deadline to apply is Wednesday, May 1st. We will speak with all applicants and make decisions by or before May 8th.
If you'd like more information regarding UIFI, please check out their website: www.nicindy.org/programs/uifi
Thank you for applying! If you have any questions at all contact Jill Courson: j.courson@csuohio.edu.
-->