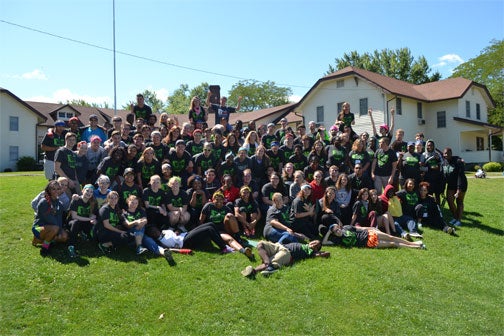 Calling all Freshmen! Calling all Freshmen!
Camp Vike? Vike Yeah!!
Camp Vike may be over, but opportunities available to freshman are not! Come join attendees of Camp Vike at the Freshmen Class Council (FCC) meetings. The FCC is composed of students that attended Camp Vike and is also open to all incoming CSU Freshmen. The FCC has different times available throughout the school week, so what's holding you back from joining??
These FCC meetings will be a combination of social events such as sporting events and field trips around the greater Cleveland area such as:
* Cleveland Indians Game- September 26th
* Ringling Brothers Barnum and Bailey Circus Trip- October 22nd
* Bowling at Corner Alley- December 2nd
* Cleveland Browns Game- December 7th Join FCC by clicking this link: https://orgsync.com/31718/forms/110641
Sounds great, but what is the Freshman Class Council (FCC)?
The Freshman Class Council (FCC) will serve as an ongoing opportunity for students from Camp Vike and fellow Freshmen to maintain connections and stay engaged at CSU. As previously stated, FCC is open to all CSU freshmen, not just Camp Vike attendees. FCC also offers Mentoring Meetings to help assist students with the transition to college. Please see our schedule for a full list of events. A full list of meeting times and events can be found here: https://orgsync.com/90878/events
FCC offers:
* Friendships developed by a number of different social events
* A safe space to discuss challenges and opportunities faced throughout the year
* S.W.A.G (stuff we all get)
* An opportunity to become an engaged member of CSU campus life