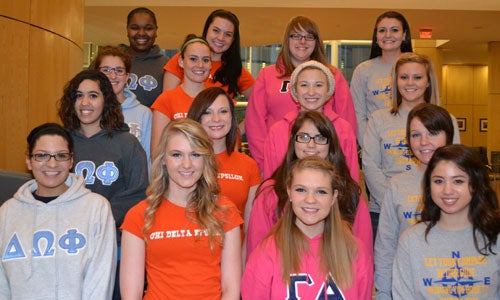 CSU Sororities
Sign up now for Sorority Council Formal Recruitment! This is an opportunity to get a great overview of sorority life at CSU and to meet women from all five of the Sorority Council chapters: Chi Delta Epsilon, Chi Lambda Omega, Delta Omega Phi, Phi Mu, and Theta Phi Alpha. The sororities at CSU are values-based organizations that all share the ideals of scholarship, service, leadership, and sisterhood. Our sororities strive to build better women and to add to your overall college experience. Formal Recruitment Events will be held each evening during September 27th - 30th from approximately 7pm - 9:30pm (times vary each day). Registration is open now: http://www.icsrecruiter.com/webservices/appMain_pan.aspx?UID=CSUOHIO&mode=enrollment The deadline to register is Wednesday, September 24th at 5pm. For questions or more information, please contact Jill Courson @ j.courson@csuohio.edu. 
Fees range from $100-$300/semester or $20-$50/month covers dues, programming fees, etc.
**Initiation fees paid one time range from $45-195 covers association fee, national dues, insurance, new member education materials, badge, etc.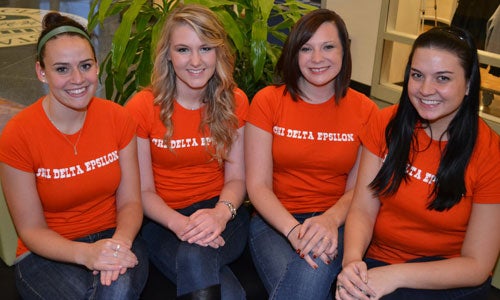 Chi Delta Epsilon
Founding: September 16, 2002 at Cleveland State University
Philanthropy: Breast Cancer Research Foundation
Nickname: Chi Delts
Mascot and Symbol: Dove and sapphire
Colors: Blue and orange
Flower: Blue hyacinth
GPA requirement: 2.3
www.xde-csu.com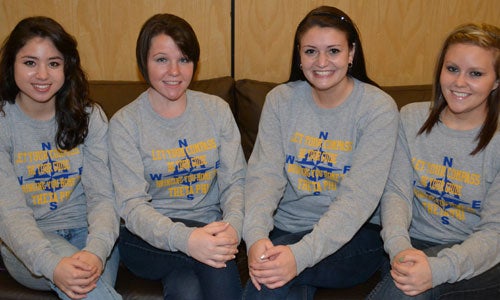 Theta Phi Alpha
National Founding: August 30, 1912 at The University of Michigan
Founding at CSU: Alpha Xi - January 6, 1979
Philanthropy: Glenmary Home Missioners and The House that Theta Phi Alpha Built
Nickname: Theta Phi
Symbols and Mascot: Pearl, Sapphire, Compass and Penguin
Colors: Silver, Gold and Blue
GPA Requirement: 2.5
http://www.thetaphialpha.org
http://www.thetaphialpha-alphaxi.celect.org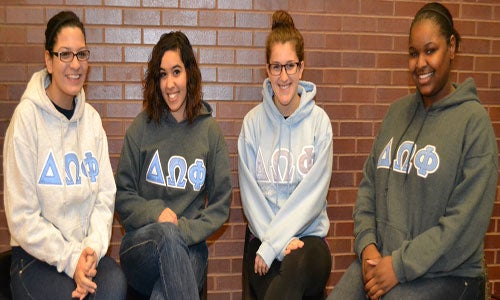 Delta Omega Phi
Founding: January 9, 2006 at Cleveland State University
Philanthropy: New Avenues to Independence
Nickname: DOP's
Symbols and Mascot: White Tiger, Blue Diamond, and Pearls
Colors: Lily White, Light Grey, Carolina Blue
Flower: Calla Lily
GPA Requirement: 2.0
Phi Mu
National Founding: March 4, 1852 at Wesleyan College in Macon, GA
Founding at CSU: Rho Lambda, April 6, 2014
Philanthropy: Children's Miracle Network Hospitals
Nickname: Phi Mu
Symbols and Mascot: Quatrefoil and Lion
Colors: Rose and White
GPA Requirement: 2.5 

http://www.phimu.org/