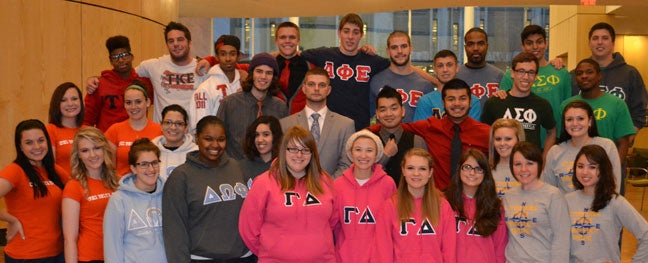 Friendship - The friendships you make through your involvement in fraternity and sorority organizations last a lifetime and are an essential part of the Greek experience. These bonds of brotherhood and sisterhood provide excellent opportunities to network, establish friendships, and develop lifelong relationships. The special bonds formed in a fraternity or sorority organization will continue when you become a CSU alum when your networking and connections with fellow students continue.

Scholarship - CSU fraternities and sororities strive for outstanding scholarship and the development of academic excellence within their chapters. All chapters must maintain a cumulative chapter grade point average of 2.2 to remain active. Individual members must maintain minimum GPA in order to remain a CSU student and active in the chapter. In addition, individual chapters implement study tables, tutoring, and scholarship excellence awards through their national organizations. Scholarship is vital to students' success and chapters' success!

Leadership - By becoming a member of a fraternity or sorority, you are also making a commitment to leadership. Fraternity and sorority chapters provide many leadership opportunities including the development of life skills such as organization, goal setting, financial planning, decision making, communication and team work. Most fraternity and sorority students are also leaders in campus organizations, student government and University committees. In addition, the Department of Student Life offers members of fraternity and sorority chapters opportunities for leadership development through the Leadership program. Leadership experiences enhance personal growth and are essential for a well-rounded education.
Community Service - Service projects are central to the mission of Cleveland State University's Greek-letter chapters. Fraternities and sororities work together to help inspire, to rebuild communities, and to assist those in need. Chapters donate time and money to various local and national philanthropies such as the Special Olympics, American Red Cross through campus blood drives, Muscular Dystrophy, AIDS Awareness, American Cancer Society to name a few. In addition chapter members volunteer time at shelters, tutoring elementary students, collecting food, clothing and toys and giving of themselves for others. As a result Greek members learn more about themselves as well as the people in need around them.