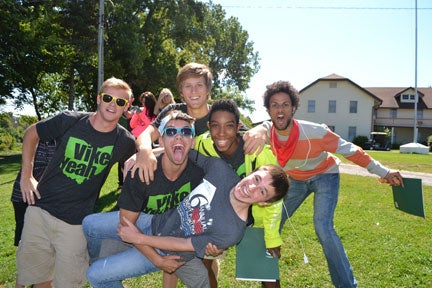 Camp Vike is a three day, two night adventure exclusively for incoming freshman looking to dive head-first into college life at CSU. Experience the thrill of completing a high ropes course with "strangers" who quickly become "best friends". Reach new heights on the giant swing. Zip line, swim, paddle boat, or make the most epic s'more ever. Camp Vike is about making YOU ready for life at CSU. Are you up for the challenge?
Looking to sign-up? Here's how!
1)    Fill out the online application
Instructions for online application: Registration for Camp Vike will be completed on OrgSync. In order to complete the form, you must create an OrgSync account. Your username is your student ID number, and your password is the same one you created for CampusNet, BlackBoard, etc. You can login into OrgSync here: http://orgsync.com/login/csuohio. To access the Camp Vike application directly, use this url: https://orgsync.com/90878/forms/100636. Or you can type "Camp Vike Application – Freshmen 2015" in the search bar. 
2)    Mail a completed wavier form and $35 check or cash to: Camp Vike Student Center 319, 2121 Euclid Ave. Cleveland, OH 44115-2214
Please note the $35 fee is non-refundable. The fee covers all transportation to and from CSU, housing, all meals and snacks, and daily activities. Financial assistance is available to those who qualify. Please email campvike@csuohio.edu with any questions or concerns.