Enrollment  ||  Pricing  ||  Day Camps  ||  Summer Camp  ||  Additional Services
---

2017 Summer Camp Schedule
Week 1: Wild Safari // June 5-June 9
Join us on a wild week safari! Your explorer can look forward to themed crafts and games such as animal yoga, making animal tracks, and a safari hunt in the Rec Center! Campers are welcome to bring in a picture of their favorite animal or a picture of their pet at home to share with their group on Friday!
LIT: Leaders in Training will get to create their own habitat such as the arctic, rainforest, etc.. and present them to the rest of the camp on Friday. Get creative with props, paint, stuffed animals and more!
 
Week 2: Disney & Superheroes // June 12-June 16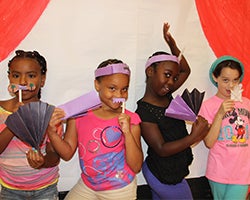 "Far- off places, daring swordfights, magic spells, a prince in disguise…" Send your camper to a week of magic as we explore our favorite characters and talk about everyday heroes in our lives! Campers will have a chance to meet some everyday heroes, make their own shield or tiara, and become a hero themselves as we help out the local community. Campers are encouraged to wear any Disney, Superhero, or inspirational character gear they may have to camp! Wednesday we'll all show off our best costumes!
LIT: Leaders in Training will work with the counselors to come up with a cause that everyone can participate in to help the community.
 
Week 3: Race to Space // June 19-June 23
During space week campers will blast off during our exploration of the galaxy- watch out for aliens! Teams will compete against each other in order to be the first ones to get to outer space! Teams will gain points for good behavior, creativeness, and team building activities. Your astronaut can look forward to making space slime and blasting off a rocket with the help of our counselors!
LIT: Leaders in Training will help counselors with face painting, trivia, a space moon walk and organize a rocket blast relay race!
 
Week 4: Books and Board Games Bonanza // June 26-June 30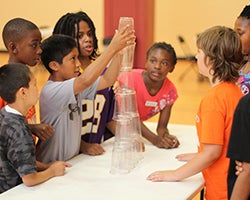 Get lost in stories and watch board games come to life. Campers find themselves in a candy land, get a CLUE from their counselors and participate in other life sized games! Campers will be encouraged to bring a book and a blanket or listen in as their counselor reads a tales throughout small breaks during the week. Other counselors will be around to help read one on one and encourage conversation about what was learned. Themed crafts and snacks will also be one for the books!
LIT: Leaders in Training will get to choose to make their own board game or write their own story to read to the camp
 
Week 5: CSU Olympics // July 5-July 7 (3 days)
The Olympics are coming to CSU this year! Send your champion to camp to compete with the best of the best! Relays, games and themed crafts are all considered when giving the gold to the brightest, strongest and most cunning team! We look forward to competing and challenging your child!
LIT: Leaders in Training will work with the counselors to come up with some of the games camp will participate in and are responsible for making the "medals" the teams will receive. Lits are encouraged to participate in the Olympics as well if they wish.
 
Week 6: A Week At The Carnival // July 10-July 14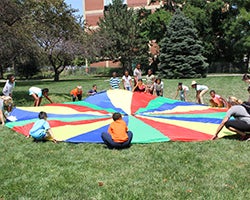 Come one and come all! Back by popular demand the carnival has returned to CSU Rec! Get ready for some clowning around. Magic tricks to be seen and game tickets to be won! Themed crafts and games will be played in preparation for our big carnival Friday. We look forward to seeing you here!
LIT: Leaders in Training will be planning for the big carnival event Friday.
 
Week 7: Candy, Costumes, Halloween & Everything in Between // July 17-July 21
It's scary exciting! Campers can enjoy a week of spooky, cool crafts and games. All treats and no tricks! Campers can look forward to a haunted house on Friday! Our costume day will be Friday officially. Campers and Counselors are encouraged to show up in a costume on Friday if desired but costumes are welcome every day if desired!
LIT: Leaders in Training will help spook up the haunted house.
 
Week 8: Surf & Sand // July 24-July 28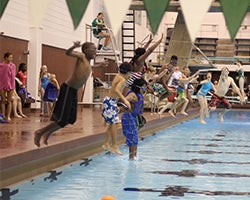 Aloha campers! This week we are making a splash at camp. Swimsuits and towel are a MUST as we slip and slide into one of the most popular camp weeks! Enjoy crafts, games and buckets of fun here as we take a "staycation". Don't get beat from the heat! Stay cool here at CSU!
LIT: Leaders in Training are welcome to participate in all the water fun! They'll spend the week planning for a tiki party on Friday filled with some wet, wacky and wild activities!
 
Week 9: Wacky Week // July 31-August 4
Calling all wacky campers! It's time to express your wild side! This week is full of crazy activities and fun themes to keep everyone involved! Which group is the wackiest?! Time will tell!
Monday: "When I grow up…" Calling all future grown ups! They say dress for the job you want-come Monday in your future career gear!
Tuesday: Get ready to wear your comfiest PJ's all day long!
Wednesday: Wacky Hat wearers it's your time to shine. Wear your favorite or most wild hat!
Thursday: Team on 3! Wear your favorite college or professional sport team!
Friday: Color Me Purple! Campers will get to dress in as much as their favorite color as they like! Blue out! Pink out! Green out! Or maybe all the colors of the rainbow!? Get creative!
LIT: Leaders in Training will participate in all the wacky fun with our campers.
 
Week 10: Campers Got Talent // August 7-August 11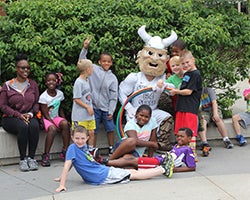 Ladies and Gentleman, boys and girls, we are happy to announce that OUR campers have talent! Join us Friday to watch your camper perform their talent for the whole camp audience! A sure celebration to have you smiling and a perfect send off to for our last week of camp; Campers will enjoy practicing their talents to perform Friday!
LIT: Leaders in Training will help our fashionistas in one of our talent portions. The runway has never looked better!