Bundles  ||  Massage  ||  Nutrition Services  ||  Personal Training
---

80% of Weight Loss and Management is How You Eat.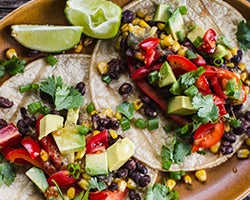 You probably know that good nutrition and physical activity go hand-in-hand to maintain a healthy weight and lifestyle. But do you really know what good nutrition is and it's impacts? The benefits of good nutrition go far beyond weight, and we can help guide you on your nutrition journey to healthier diet and lifestyle!
If you are interested in meeting with our registered dietitian, click here to download and complete our nutrition packet. 
 
March is National Nutrition Month!!!
March is National Nutrition Month and a fantastic time to re-examine your eating habits and take steps to improve how you nourish your body! We have some creative and FREE events in March to help you learn more about healthy eating habits, better nourishment!
WELLNESS WALKS | Wednesday, February 28th AND Friday, March 2nd; 1-2pm
CSU Rec Center Track
Join our Registered Dietitian, Anna, on the CSU Rec Center track for a Q&A session to answer any of your burning questions about nutrition! Walk for just a few minutes or the full hour!
NUTRITION PUZZLE CHALLENGE | Wednesday, March 7th AND Friday, March 9th; 12-2pm
CSU Student Center (3/7); CSU Rec Center (3/9)
Exercise your mind while you evaluate your nutrition knowlege with sudoku and a word search!! If completed, winners will receive a mini complimentary nutrition consultation. (Mini consultations will take place from 2-3pm)
NUTRITION JEOPARDY | Monday, March 19th; 12-2pm AND Wednesday, March 21st; 12-3pm
CSU Student Center (3/19); CSU Rec Center (3/21)
Test your nutrition knowledge with the classic game of Jeopardy! Prizes will be awards to winners.
FREE NUTRITION WORKSHOP: WHAT'S ON YOUR PLATE | Tuesday, March 27th; 11:45am-12:30pm
CSU Rec Center Conference Room 136
This FREE workshop will focus on MyPlate and the recommended amounts of food that you should be aiming for in each meal.  We will also help you calculate your target needs for protein, fat, and carbohydrates.  Put your best fork forward and make small changes to improve your health for a lifetime! Snack will be provided.
 
Nutrition Services Rates
| | |
| --- | --- |
| Initial Session* | Student:  $30  ||  Member: $60  || Non-Member: $75 |
| Follow-Up Session | Student: $15  || Member: $20  || Non-Member: $35 |
| 3-Session Follow-Up Package | Student: $40  || Member: $50  || Non-Member: $75 |
*Initial Session is required for all new nutrition clients.
Before making your purchase, click here to review our refund policy.
 
How Do I Purchase Nutrition Services?
You can purchase nutrition services with cash or credit card at the Pro Shop, or 

by calling 216.802.3200 (credit card only).

A Fitness and Wellness staff member will contact you within 2 business days to set up your appointment and you will be sent a Nutrition Counseling packet to complete.

Please be sure to fill out and return the Nutrition Counseling packet prior to your scheduled session with the Registered Dietitian so we can hit the ground running on your nutrition journey!
 
Meet Our Registered Dietitian!
Anna Cherian, BS, RD, LD
Anna received her B.S. in Medical Dietetics from The Ohio State University in 2016. During her undergraduate degree, she developed strong interests in urban health and using nutrition as a primary prevention tool in the community setting. This led her to the path of pursuing pre-medicine and dietetics. Through her internship experiences in many diverse areas, it solidified her passion to pursue a career helping under-served populations and improving health. Shortly after graduation she became a registered and licensed dietitian. Currently, Anna is Postbacc/M.D. candidate in the NEOMED-Cleveland State University Partnership for Urban Health. This program focuses on addressing health disparities in the Greater Cleveland area and matriculating to medical school to become an urban health primary care physician. Anna hopes to use her knowledge as a registered dietitian and eventually a doctor to help prevent chronic diet-related chronic diseases such as obesity, hypertension, and diabetes.