We're Always Looking for Dedicated and Capable People to Join Our Team!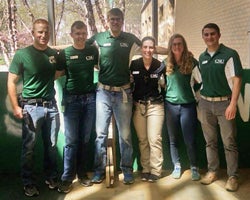 At CENTERS, we attract people who have a strong passion for campus recreation and who like to be challenged. Each person who joins the CENTERS team has demonstrated excellence in his or her field. We recruit only the best and the brightest by selecting the most qualified contenders from our internship program and part-time staffers as well as external candidates. We provide students with a hands-on learning environment that positions them alongside industry leaders in order to gain professional experience and encourage innovation. Our management team has more than 100 years of professional experience in collegiate recreation, with a focus on market responsiveness, mission sensitivity, cost effectiveness, and a commitment to excellence on behalf of our clients.
All positions are employees of Centers L.L.C., which manages the Recreation Center facility, programs and services for Cleveland State University. We have the university's best interests in mind in all we do and we work hard to integrate right into the mix at Cleveland State so as to provide the best recreation experience to our students, faculty, staff and community members. We look forward to speaking with you more about join our team!
 
Now Hiring
PART TIME: Campus Recreation Services is always hiring certified Personal Trainers, fitness Instructors, Cycling, Yoga, Pilates, and Dance instructors. However, a variety of other part time positions are also available.
Part Time, Group Fitness Instructor
Part Time, Intramural Official
Internships and field experience opportunities are available in specific areas of recreation services each semester. Available positions can be found by visiting here and clicking on Cleveland-OH.