Enrollment  ||  Pricing  ||  Day Camps  ||  Summer Camp  ||  Additional Services
---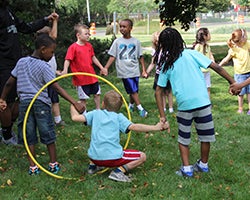 We offer convenient add-on programs for parents who need to work early or late (or both!), so you don't have to worry about rearranging your work schedule. Plus we have camp swim lessons each week if your child wants to learn how to swim or just enjoys being in the water!

 
Before & After Care
Fit and Fun // 7:30-9am
Price: $15/week
This is a program that takes place before the camp day begins. The focus of the program is to provide time for your child to take part in fitness related games and activities.
Stay and Play // 4-5:30pm
Price: $15/week
Stay and Play is an alternative program for a child after camp. This gives the child more time at the Rec to focus on games and learn the rules of sports.
 
Camp Swim Lessons
Splash and Swim // 4-5:30pm
Price: $30/week
We are offering swim lesson courses that take place Monday to Thursday for 40 minutes between 3-4:30pm. Children will be placed in a swim lesson time based upon ability and will complete the lesson by 4:30pm. Please allow 15 minutes for the child to change after the lesson has ended. In addition to swim lesson instruction, your child will also be enrolled in Stay and Play at no additional charge. The deadline to register is the Wednesday prior to the camp week.