of the State of the Union online, allowing users to simultaneously watch the live stream of the President's speech and view additional content on a side panel. The President, when speaking on the challenges of education, said the following:

"Teachers and principals in schools from Tennessee to Washington, D.C., are making big strides in preparing students with skills for the new economy—problem solving, critical thinking, science, technology, engineering, and math. Some of this change is hard. It requires everything from more challenging curriculums and more demanding parents to better support for teachers and new ways to measure how well our kids think, not how well they can fill in a bubble on a test.But it's worth it—and it's working."

His words were supplemented by this slide: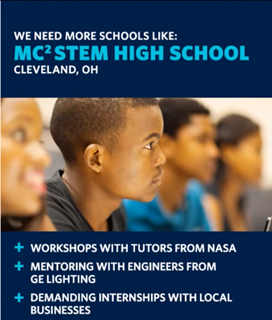 This is a real testament to the work of Principal Jeff McClellan and all those involved in making the MC2STEM High School at Cleveland State a success. Our expectation is that many of the students currently enrolled at MC2STEM High School will choose to pursue higher education. It is critically important for these students to be well prepared in high school in order for them to be successful in their college careers.
But this recognition is also a testament to the power of the unique partnership among Cleveland State University, the KeyBank Foundation and the Cleveland Metropolitan School District. We are working together to strengthen our young people's college readiness through enhanced STEM programming—and, in so doing, setting a national example.
Ronald M. Berkman
President
Cleveland State University