<!--

Spring Semester 2013 Media Highlights
-->
Cleveland State's dorm restrictions are nothing outrageous: editorial
The Cleveland Plain Dealer Editorial Board
March 08, 2013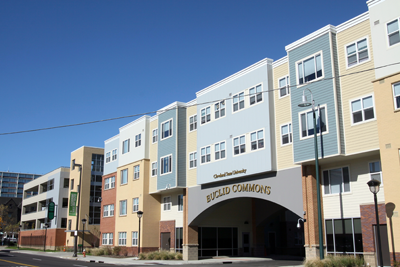 Too many colleges look the other way when dormitories become the sites of late-night bacchanals in ways that can threaten students' health, safety and lives.
So it's entirely appropriate that Cleveland State University has put its foot down after a few too many wild parties by creating rules last spring designed to discourage late-night drinking binges. The policy forbids students from bringing guests to the dorms between 2 a.m. and 6 a.m. and bans students of drinking age from having more than a six-pack of beer or one bottle of wine or spirits in their rooms at any one time. Drinking in front of minor students also is forbidden.
Some students have moved off campus to protest the new policy.But CSU is responsible for keeping its dorms safe. That's harder to do if guests are slipping in after the bars close to continue drinking.
(Friends and relatives may stay in the dorms if they arrive before 2 a.m., says CSU spokesman Joe Mosbrook, who said there had been some misunderstanding about the policy.) Students are a clever lot, so it's unlikely that CSU's dorms are about to turn into monasteries. Still, there's nothing wrong with trying to bring order to late-night partying and discourage alcoholic binges among college students. That's a policy all universities should adopt.