CSU Launches New Fall Recruitment Advertising Campaign
You may have heard a familiar message on the radio, seen it on a billboard in your rear view, bumped into it online or had it interrupt your favorite television sitcom. University Marketing launched its newest CSU advertising campaign late last month and it speaks to the University's greatest asset – Engaged Learning.
Prospective high school (and transfer) students and their parents are introduced to Engaged Learning through The Diversity of Smart campaign which appears in the following media:
Outdoor billboards in Ohio, Erie, PA, southwest MI and Buffalo, NY
Online ads served primarily to prospective students and their parents
Strategically placed radio commercials and sponsorships
Cable television ads on the shows most watched by prospective students
Social Media (YouTube, Twitter, Facebook and Google+)
Created to help drive interest, event attendance, campus tours and admissions applications, the campaign touts what makes CSU special and piques interest by asking how far Engaged Learning can take you. The unique Freshman Scholars merit award program, renowned faculty, variety of majors, and internship opportunities are just a few of the areas highlighted.
Outdoor Billboards
Online Ads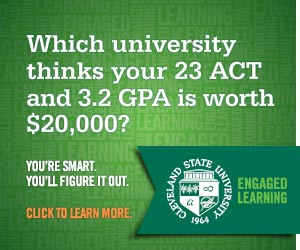 TV spots
Click here to watch commercial 1
Click here to watch commercial 2