CSU Hosts Counseling Psychology Conference
The Counseling Psychology Program at Cleveland State University served as host of the 27th annual Great Lakes Regional Counseling Psychology Conference:  Building Bridges within the World of Counseling Psychology and Beyond its Borders to Connect Diverse People, Communities, and Concerns: Benefits of Social Justice to All.  The 2014 student-friendly event, held April 11-12, remains the only continuing Regional Counseling Psychology Conference in the nation.
Cleveland State University earned its place as the tenth university to host The Great Lakes Regional Counseling Psychology Conference since its inception in 1988. Over almost three decades, students have enjoyed the benefits obtained through presentations, networking, and invaluable mentorship at the conference. The Great Lakes Conference continues to uphold one of the main pillars of regional conferences- the socialization and mentorship of students into the profession. In addition, the Great Lakes Regional Counseling Psychology Conference offers a safe and friendly platform for open discussion of current local, state and Midwest regional issues affecting the field.
Spotlight on Cleveland State University
The Cleveland State University APA accredited Counseling Psychology doctoral program was chosen through a national competitive process to serve as Host Institution (2013-2016) for the American Psychological Association (APA) Society of Counseling Psychology Student Affiliates of Seventeen (SAS).
The conference brought national recognition to more than 100 students, faculty, and professionals from across the nation who participated in the weekend event. Each of the invited speakers is nationally or internationally recognized as a scholar in counseling psychology.   Attendees were eligible to earn up to 5 continuing education hours by participating in one-hour sessions.
Two prominent counseling psychologists delivered Keynote Addresses.  President of APA Division 17, Dr. Sharon Bowman of Ball State University and Dr. Katharine Hahn Oh, Oberlin College Counseling Center, delivered addresses entitled Post-Atlanta Blues: Reviewing the Past, and Considering the Future; and Purpose, Privilege, Belonging: An Early Career Narrative, respectively.
2014 Conference Sessions Available Online
Cleveland State University's Information Services & Technology Department provided web-based conferencing services to expand the geographic reach of the conference and to enable archiving of invited symposia, conversation hours, and webinars listed below.
Sharon L. Bowman Ph.D., HSPP, LMHC, Ball State University
Katharine Hahn Oh Ph.D., Oberlin College
Nancy Betz Ph.D., Ohio State University-Main Campus
Mark Savickas Ph.D., Northeast Ohio Medical University
Sharon L. Bowman Ph.D., HSPP, LMHC, Ball State University
Suzette L. Speight Ph.D., University of Akron Main Campus
Y. Barry Chung Ph.D., Indiana University
James Croteau Ph.D., Western Michigan University
Event sponsors included CSU's College of Education and Human Services, COEHS Office of Doctoral Studies and Counseling Psychology Program; in addition to The Society of Counseling Psychology (Division 17 of the American Psychological Association); and the Student Affiliates of Seventeen (Student Affiliates of Division 17 of the American Psychological Association).
Additional conference details and archived sessions may be found here: 
2014 Great Lakes Conference, Cleveland State University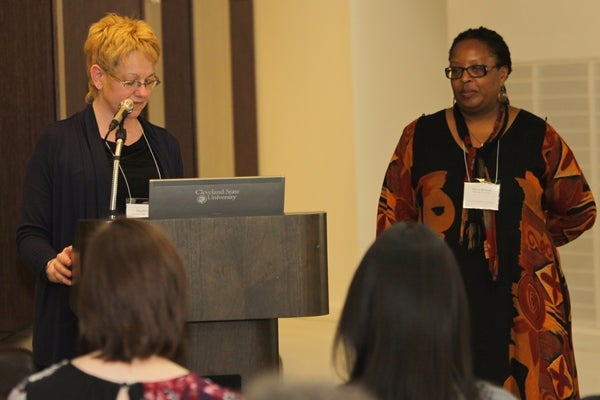 Dr. Julia Philips (Cleveland State University) introduces Keynote Speaker Dr. Sharon Bowman (Ball State University). President of APA - Division 17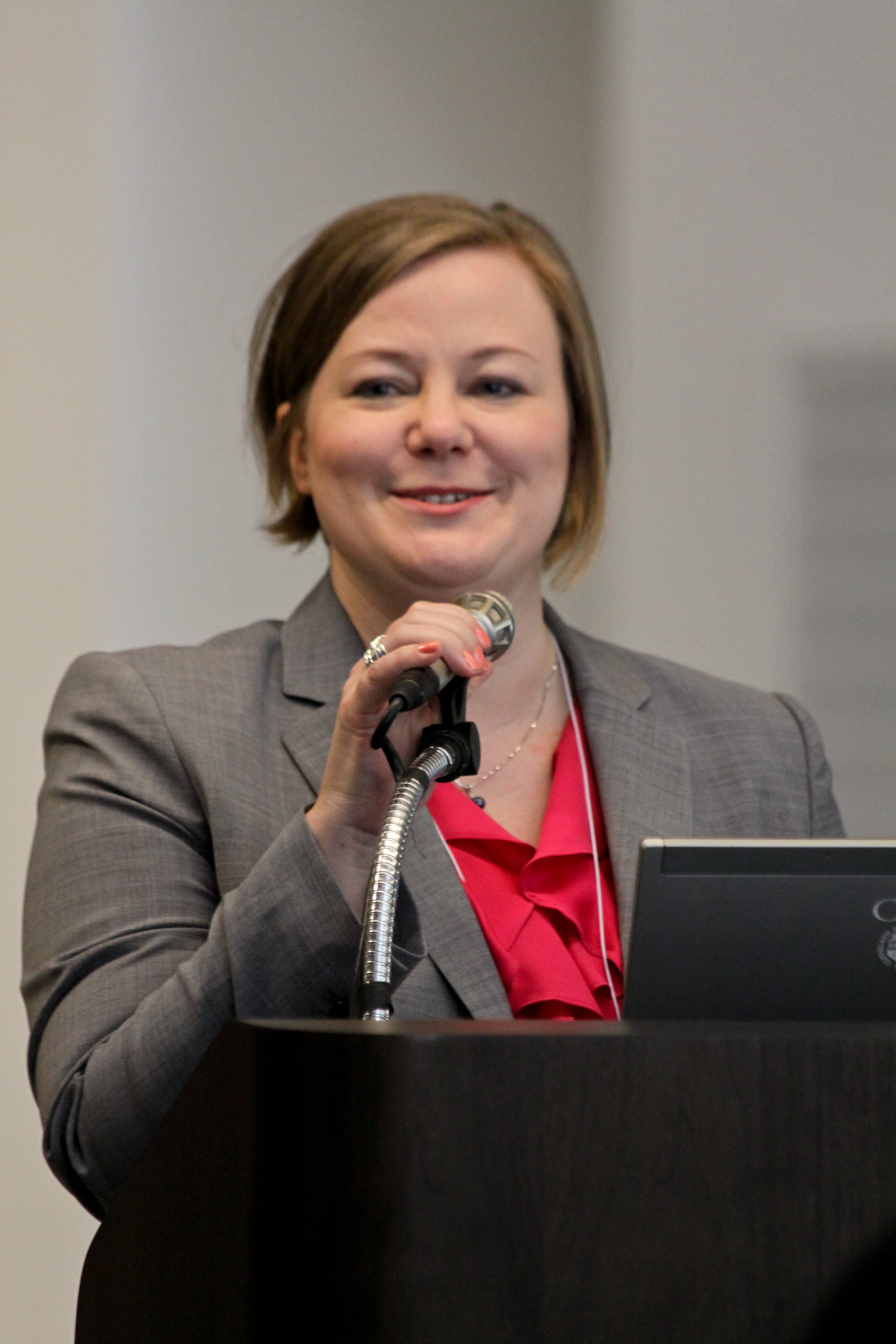 Dr. Katharine Hahn Oh (Oberlin College Counseling Center) delivers Keynote Address
Top of Form