2007-2008 Fulbright Recipient
Murali D Nair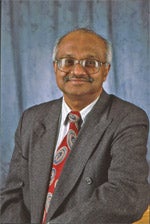 Professor, School of
Social Work  
CB 326  
216-687-4570  
m.nair@csuohio.edu
Sri Lanka,
2007-2008
Dr. Nair will teach and conduct research at the University of Ruhuna
in Matara, Sri Lanka. He will focus on developing curriculum and
teaching in the areas of micro enterprise, grant writing, service
learning and community development. He will also study traditional
healing practices and the longevity of centenarians.
Dr. Nair will research the social vulnerability of
tsunami victims in the Matara area and their natural support systems
and coping capacity. His goal will be to minimize future tsunami
vulnerability in the southern coastal areas of Sri Lanka. To do this,
he will document the traditional belief systems of the local people
towards respecting the coastal environment. He will also explore the
possibility of starting micro enterprise training for tsunami
survivors who may not have any skills in fishing and other related
trades. The study is cosponsored by the United Nations University
Institute for Environment and Human Security.