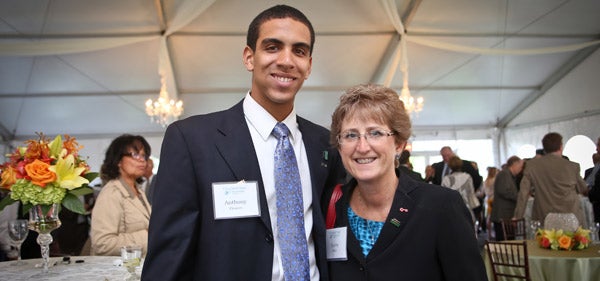 Dean's Circle
The Cleveland State University Foundation established the Dean's Circle to recognize those donors who make an annual leadership investment in the University.
Dean's Circle Annual Giving recognition levels*
Bronze: $1,000-2,499
Silver: $2,500-4,999
Gold: $5,000-9,999
Platinum: $10,000+
*Graduates of the last decade are recognized at the $500 level.
Why Join the Dean's Circle?
Each year, state funding decreases, while need and merit increase. With your gift, Cleveland State can offer new student scholarships, faculty and staff development, academic programs, multidisciplinary centers, technology, library resources, facility upgrades, and so much more.
What Can I Expect when I Join the Dean's Circle?
With your gift to the Dean's Circle, you can help CSU offer the highest quality education, as well as new and improved research efforts to better prepared students - students who have worked hard to get into CSU, and who will work hard to stay in Northeastern Ohio. You can help us retain these students, increase their chances of graduating, and you can help us provide the support network that is necessary to college graduates in today's changing world.
You can expect a commitment from us to use your gift to provide for students who deserve an education but may not be able to afford it. You can expect it to change the future. And you can expect it to change lives.
Dean's Circle members are recognized for their leadership support in the CSU Foundation Annual Report. They will also receive invitations to special events.
Join the Dean's Circle
President Berkman's vision for Cleveland State includes engaging its students, its faculty and staff, its alumni, and its friends to provide a world-class education. The students who receive their education at Cleveland State can change our region, our nation, and our world. Support them today, and help us offer the access to excellence for which CSU is known.
To join the Dean's Circle or for more information, contact the Annual Giving Office at 216.687.3557.