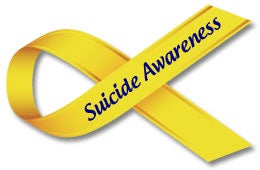 If you or someone you know are experiencing any of the following:
Thinking about ending your life
Thinking about or engaging in self-harming behaviors
Having difficulty taking care of your basic needs
Becoming preoccupied with death, dying, or violence
Saying goodbye to people as if they won't be seen again
Feeling trapped or hopeless
This could be an indicator that you may need/want someone to talk to.  You are not alone.  Many students who struggle with these symptoms do not know where to turn.  If you are having suicidal thoughts or using self-harm (cutting, pulling out hair, burning, picking, etc.) as a form of punishment, a way to regulate your emotions or cope with your pain, there are other options.   There is help available.
If you or someone you know are in immediate danger of suicide, CALL 9-1-1 immediately.
For more information, please visit the Suicide Prevention Resources and/or Self-Harm link.  
To talk with a professional, call the Counseling Center at 216-687-2277 to make an appointment.