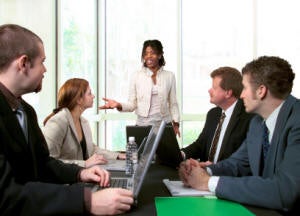 Turn your organization and people skills into a great career.
The Certificate in Project Management meets
the need for a proven, practical approach to project
management training. Combining the most recent advances
in project management with the practical, "hands on'
experiences of practicing project managers, the program
offers a unique blend of the theory and application.
Effective project management involves meeting deadlines,
staying within budget, coordinating diverse groups of
people and tasks, solving problems and achieving
results. The Project Management Certificate is
designed to give professionals the tools needed to
successfully manage any type of technical project.
Based upon the industry standard, Guide to the Project
Management Body of Knowledge (PMBOK®), developed by the
Project Management
Institute (PMI®), the curriculum covers in-depth the
essential elements of initiating and completing a
successful project, including the development of
interpersonal skills to conduct work in the team
environment inherent to modern projects.
You will register for each course separately. Individual courses may be taken without participating in the certificate program. For more information, call (216) 687-2144 or send an email to
conted@csuohio.edu.
Cost:  $2, 788
Length: Two or more terms
CEUs:  9.7
Contact Hours: 97
You'll earn a Certificate in Project
Management by completing these eight required courses:

Managing Multiple
Projects
April 16, 2011
Sat, 8:30 am-3:00 pm
Downtown, Cole Center
CPTR 518101 2100
CEUs: 0.6     $259
Instructor: Cynthia Pierce,
M.B.A., P.M.P.