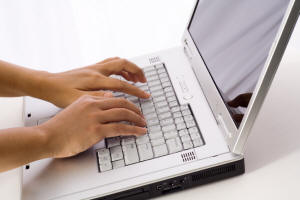 Gain new skills from anywhere, anytime you are
connected.
We give you several options to learn online.
 
General Information
We also offer web-based programs designed to provide
the skills necessary to acquire professional caliber
positions for many in-demand occupations.  All
online courses require average web skills, a
computer, Internet access, and an e-mail address. 
Take the

self-assessment to determine if e-learning is right
for you. 

Click here for more information.
Your
work and access time will be monitored by the
instructor. Generally, no online class meetings are
required or are set at mutually convenient times. No
discounts applied to online courses. 
CSU Online Continuing Education Courses
Cleveland State University Continuing Education
Instructors have developed many online courses.  The Patient Advocacy Certificate Programs
is entirely web-based. 
Click here for a complete list and more detailed
information of CSU CE created online courses. 
 
CSU Online Credit Courses
and Degree Programs
Click
here to
visit Cleveland State's eLearning website.