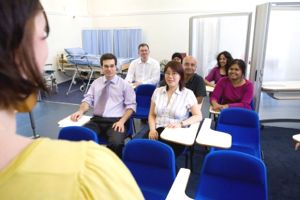 Take a look at our health care certificate programs.
Although the US economy remains sluggish and the
overall job market has not improved, the demand for
health care staff and professionals is growing at a
staggering rate.  These factors have created enormous
job opportunities for individuals trained in various
aspects of health care. 
Cleveland State offers an intense
Patient Advocacy Certificate
Program (PACP) for those currently working in or
considering a career chance in the area of Patient
Advocacy.  The PACP is offered completely online
and enrolls individuals from across the nation.  It is
comprised of ten unique modules, which are taken
individually. This program has received outstanding
feedback form those enrolled.   Complete details and
course descriptions can be found by clicking the PACP
link to the right.  For information about Financial
Assistance and Discounts
click here.