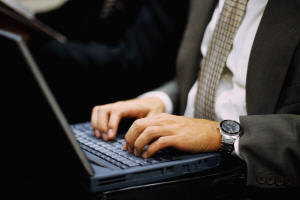 Online courses developed with your needs in mind.

General Information
These are web-based online courses developed and
offered by Cleveland State University (Division of
Continuing Education). To participate you need to have
average web skills, a computer, Internet access, and an
e-mail address. All other directions will be provided
during the course. You will need to log into the course
web site at least once for each of the lessons. 
Take the

self-assessment to determine if e-learning is right
for you. 

Click here for more information.
Your
work and access time will be monitored by the
instructor. You must begin the course within the first
two weeks of the time period and may request a one week
grace period to conclude all lessons if necessary. 
No discounts are offered for online courses.
Cleveland State University now has 24/7 live
technical help for Blackboard CE! Students and faculty
can get help around the clock by visiting the eLearning
Help Portal at

http://elearninghelp.csuohio.edu or calling
toll-free (877) 382-2011. The eLearning Help portal has
a live chat feature as well as in depth answers to
frequent questions. Check out this great new resource!
Business & Management
Nursing, Health & Human Services
 
May 16-20, 2011
ONLINE
MGMT 475201 6190
CEUS: 0.7     $209
Instructor:
Jacqueline
Mueckenheim
---
Our online

Patient Advocacy Certificate Program is based on the
strong foundation of the Patient Advocate Core
Competencies that were defined by the national Society
for Healthcare Consumer Advocacy.  Each of the ten
modules/courses focuses on one competency.  Below
is the current schedule for all modules.  You can access course descriptions for all modules on this website
by clicking on the course titles. 
The tuition for each module is $149.
 
HCHS 538401


Section 6191 April 25 – June 6, 2011
HCHS 538407


Section 6191 April 25 – June 6, 2011
HCHS 538406

Section 8190   June 20 - August 1, 2011
HCHS 538408

Section 8190   June 6 - July 18, 2011
HCHS 538402

Section 6191 May 16 – June 27, 2011
HCHS 538410


Section 6191 April 4 – May 16, 2011
HCHS 538405

Section 6190 March 7 – April 18, 2011
HCHS 538404

Section 6191 May 2 – June 13, 2011
HCHS 538403


Section 6190 March 28 – May 9, 2011
Section 8190 June 20 - August 1, 2011

Measuring Patient
Satisfaction
HCHS 538409


Section 8190 June 6 - July 18, 2011
---