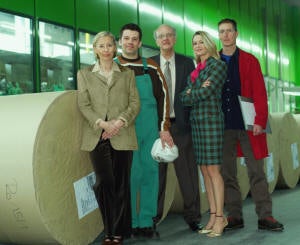 It's about much more than toxic spills

We
continue to be the leader in Safety, Security, and Privacy training in
Ohio.
It takes proper skill, planning, execution, and commitment to create and
maintain a safe work environment. The Center for Emergency Preparedness
at Cleveland State University can help your company build a
safety-training program in compliance with state, federal, and local
regulations.
Through our customized OSHA, HAZWOPER, DOT and Business Continuity and
Emergency Planning classes and workshops - offered at Cleveland State or
at your preferred location - we can help you reach compliance and
improve your overall level of safety performance.
We are in the business of education.
We
operate on the simple premise that if we produce the results you want,
you will give us your business now and in the future.
We focus on you, the customer.
We like
to ask questions. We want to learn how you operate, your goals, and the
challenges you face. We may also tour facilities. Once we know what you
need to accomplish and what conditions exist in your organization, we
begin recommending ways to help you.
We offer tools you can use.
We stress
real-world application in everything we do. What you'll see is a
difference in the office, on the production floor, in the conference
room, in the field, and anywhere your employees are working, You'll see
them working more safely.
We're here for the long run.
The
Center for Emergency Preparedness has been a part of Cleveland State
University since 1984. We don't disappear once the project is finished;
we're committed to a long-term partnership for as long as you need us.
The Center for Emergency Preparedness staff can assist in customizing
and conducting site-specific training related to hazardous materials,
business continuity, and emergency preparedness.  Please contact Bernard
W. Becker III at (216) 875-9860 or

b.becker64@csuohio.edu for further information.
Our training programs are essential for:
Businesses
We train corporate employees and executive management to be prepared
for a disaster and to be able to continue operations during and after
one.  We train staff on how to handle hazardous materials in order
to prevent an emergency and respond when one does occur. We train you to
protect your corporate assets
Government and Quasi
Governmental Agencies We provide training to emergency managers,
elected officials, first responders, and safety-sector employees so they
can perform their jobs better and more efficiently.
Healthcare Providers
We provide courses to healthcare providers to ensure more efficient job
performance and to supplement their knowledge in responding to disasters
and bio-terrorist events
Schools
We provide emergency preparedness training to faculty and staff so they
are better prepared during an emergency to deal with students and
parents.
 
In addition to the courses scheduled
on the linked pages below, we can bring you:
NIMS 100
- 400 and updates

Building Emergency Response

Fire Extinguisher Training

Hospital Decontamination

Hazard Communication

C.A.M.E.O.

OSHA 10 and 30

First Responder Awareness/Operations

Chemistry of Hazardous Materials

40 Hour Hazardous Materials
Technician

Confined Space Entry and Rescue
Click on one of the links below to find courses
offered in these subject areas:
Continuity of Operations (COOP)
Hazardous Materials and Related Courses
Compliance and Workplace Safety
Center for
Emergency Preparedness Certificate Programs