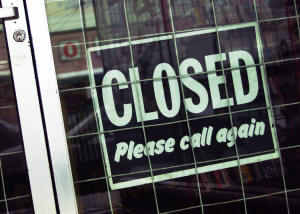 Don't be another statistic. Make advanced plans.
The importance and relevance of Business Continuity on a global scale
is rising. The 911 Commission Report references the private sector as
a critical component of the nation's infrastructure where the nation's
preparedness often begins. The Commission says that business preparedness
is the standard of care owed by a company to its employees and the public
for legal purposes. "Private sector preparedness is not a luxury;
it is a cost of business in the post-9/11 world."
According to SCORE:
A Company that experiences a
computer outage lasting more than 10 days will never
fully recover
financially. 50 percent will be out of business
within five years.

An estimated 25 percent of
businesses do not reopen following a major disaster

70 percent of small firms that
experience a major data loss go out of business
within a year.

Of companies experiencing
catastrophic data loss:
- 43% of companies never reopened
- 51% of companies closed within 2 years
- 80% of companies that do not recover from a
disaster within one month are likely to go out of
business
- 75% of companies without business continuity plans
fail within three years of a disaster
- Companies that aren't able to resume operations
within ten days (of a disaster hit) are not likely
to survive
- Of those businesses that experience a disaster and
have no emergency plan, 43 percent never reopen; of
those that do reopen, only 29 percent are still
operating two years later.
In order to ensure that businesses and other organizations function
during any type of emergency, the Center for Emergency Preparedness
developed its Certificate Program in Business Continuity and Emergency
Planning. It has received very positive reviews in the past two years.
The Certificate Program consists of six required courses, which may
also be taken separately. Core courses are
Crisis Communications,
Critical
Incident Stress Management,
Emergency Response Procedures,
Information
Security, Organizational Recovery, and
Personnel and Facility Security.  This
program can be completed in one or more terms.  If all six courses
are taken, the total cost of the program is $1,594. You must register
and pay for each course separately.  For information about
Financial Assistance and Discounts
click here.
Who Should Attend
Managers and other professionals responsible for safety, security, human
resources, legal affairs, and business/financial operations; media spokespersons;
and anyone who would be managing the incident in the event of an emergency.
Click on the course title to view the course
description.  Click on the instructor's name to
view their bio.
These programs will not offered again until
Fall 2011.