The Beijing Sea-Dream Art Troupe - Traditional Chinese Dance and Music
Date: 10/5/2013
The Beijing Sea-Dream Art Troupe visited Cleveland State to give a wonderful display of Chinese ethnic art forms including music, dance, theater, and more.
Date: 9/27/2013
Every year, we plant trees in honor of teachers, and host a one-day event at CSU to celebrate the success of our teachers and the achievements of local students.
The ceremonies this year included student performances celebrating Chinese art, culture, and language, as well as an awards ceremony recognizing educators for their contributions to an engaged, multicultural learning environment. Of special note among our honorees this year were Dr. Mark Freeman, retiring Superintendant of the Shaker Heights School District, and Dr. James McLoughlin, the previous Dean of the College of Education and Human Services at Cleveland State University.
Student groups in attendance came from Chinese Language curricula and programs from around greater Cleveland area, including groups representing eighteen schools from seven school districts.
Date: 9/27/2013
海外华文教育名师巡讲团克利夫兰讲学专场
The Confucius Institute at CSU as co-organizer with CSAUS (Chinese School Association in the United States) and CCCCA (Cleveland Contemporary Chinese Culture Association) invites you to attend an upcoming opportunity to share and learn Chinese.
Date: 7/10/2013 - 7/25/2013
Participants: High School students from Greater Cleveland Area, Akron and Toledo area
Date: 4/27/2013
The Confucius Institute presents a Chinese dance and music program that features a wide spectrum of Chinese dance forms from several different ethnic groups. The guest performers visited CSU from South-Central University for Nationalities (SCUN) in Wuhan, China, and proceeds from this event are being utilized for disaster relief following the April 20th earthquake in Sichuan Province.
Confucius Institute makes a great effort to promote Chinese culture
A Report on Chinese New Year Celebration
Written by Qiyuan Zheng
Chinese New Year, also known as Spring Festival, is the most important festival in China. Everyone is coming back home or getting together with family and friends to celebrate the coming New Year. There was no doubt that 2013 would be another great time for us to get Chinese people together, spread Chinese culture, and strengthen connections with local communities. Confucius Institute at Cleveland State University has been very active in collaborating with Chinese Students and Scholars Association (CSSA), Chinese American Faculty and Staff Association (CAFSA), and Chinese Professional Entrepreneur and Association (CPEA) for Chinese New Year Celebration. What's more, the Confucius Institute also successfully hosted the Dumpling Festival at Campus International School (CIS) and sponsored Cleveland Contemporary Chinese Culture Association (CCCCA) and Westlake Chinese Culture Association (WCCA) for the Chinese New Year Celebration. We can see the Confucius Institute makes a great effort to spread out Chinese culture and impact local communities.
At the Chinese New Year Celebration, the performers gave a wonderful show and provided a window for American friends to view China. The most impressive show was "Kung Fu"(Gongfu). Not only Chinese people performed Kung Fu, but Americans did too. We saw different martial arts styles in the celebration, like Tai-chi(Taiji), monkey boxing, cane knife, etc. I was surprised when seeing a group of teenagers doing Kung Fu with professional moves. Besides the teenagers, there was even a group of children who showed the basic moves of Kung Fu. The youngest children were about only four or five years old. It's great to know that more and more people from different parts of the world are interested in Kung Fu and willing to put effort into practicing it. It's fabulous.
As mentioned before, the Chinese New Year Celebration is very important for Chinese people, especially for the people who live abroad. For this reason, the celebration got a lot of people in the communities involved. In the Tibetan dance was given by a group of dancers with average age of 76. The oldest dancer was 82 years old, but they still gave a vivid dance show. You could see the passion and happiness on their faces. The 12-year-old girl who danced Dream won the First Prize in a State Dance Competition last year. The boy who performed Peking Opera—Taking Mount Tiger with Strategy—was only 10 years old but showed a full expression and spirit of the character. Most of the performers were not professional but still trying to bring as much joyfulness as possible to everyone, sending their best wishes. Some of them are students, some are retired people, some are teachers, and some are regular workers. No matter what vocation they are in, the purpose they shared is the same—to celebrate the New Year and bring good luck to everyone!
Special thanks to Ms. Caroline C. Macdonell who commented and revised this article.
Greeting Lunar New Year with Dumplings 饺子飘香,喜迎新春
By Yutong Xin, PhD.
Translated by Qiyuan Zheng
Photograph by Wenzheng Liu
(2/5/2013)
Lichun, or The Beginning of Spring, is the first Solar Term of a year, which falls on February 4th for the year 2013. In order to greet the coming Chinese New Year, Confucius Institute at Cleveland State University organized the Second New Year "Dumpling Festival" for the teachers and students at Campus International School.
During the Festival, all the teachers, students, and parent volunteers watched the whole process of making dumplings by Chinese teachers that mixing, rolling, wrapping, and finally boiling the dumplings. Also, they listened and took notes carefully on each step; many of them even made the dumplings themselves. Later, they learned how to eat dumplings with chopsticks. The teachers, students, and parent volunteers were very satisfied and happy with the dumplings they made. They said the dumplings are very delicious and easy to learn, and indicated that they will learn making dumplings at home and practice using chopsticks.
  2月4日是中国的立春节气,为迎接即将到来的中国新年,美国克利夫兰州立大学孔子学院组织本院中文教学点校园国际学校(Campus International School)师生举办了第二届新春"饺子节"。
   在饺子节上,全校师生和家长志愿者们兴致勃勃地一边观看孔子学院中文教师们亲手示范和面、擀皮、和馅、包饺子、煮饺子的全过程,一边认真聆听和记录各个步骤的具体做法,不少人还亲手包了饺子。随后大家还一起学着用筷子品尝美味的饺子,吃着自己亲手包的饺子,老师、学生和家长志愿者们赞不绝口,他们纷纷表示中国饺子好吃易学,以后不仅要在家里学做中国饺子,还要多练习用筷子吃饺子。(克利夫兰州立大学孔子学院中文教师辛玉彤撰稿、刘文政摄影)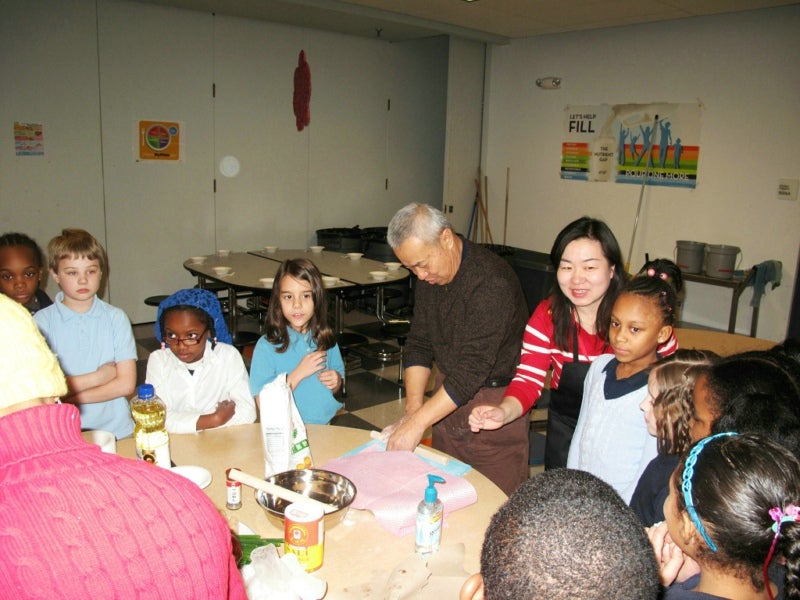 TEN YEARS TO GROW TREES A LIFETIME TO CULTIVATE PEOPLE
Ms. Hui Yu
Golden September. The sky was crystalline, with the smell of fruit in the air. The Confucius Institute at Cleveland State University (CSU) welcomed its fourth annual teacher appreciation celebration in honor of Confucius's Birthday.
The event opened with greetings from Dr. Lih-Ching Chen Wang, Director of the Confucius Institute at CSU. Mr. Anthony Yen, Chairman of the Board of Trustees of the Confucius Institute at CSU, and Dr. Sajit Zachariah, Dean of the College of Education and Human Services at CSU also spoke briefly. Dr. Wang said "This past weekend, we planted a cherry tree in Cleveland's Chinese Cultural Garden in honor of Confucius and his continuing influence on education. There is a Chinese saying. It says that just as planting a tree today will result in blossoms in years to come; educating a child well today will lead to excellent performance in later years. In Chinese, we would say. In planting the tree, we would also like to honor teachers and educators around the world; and we want to honor students who are learning the Chinese language, which is a window into Chinese culture." Mr. Yen observed that the Confucius Institute had successfully finished the education jobs of last year and will continue to be dedicated to Chinese education and cultural promotion in the state of Ohio. Dr. Zachariah congratulated the Confucius Institute on its success to date, and wished it well in the days to come.
Chinese teachers Qiuhui Li from the Shaker Heights City School District and Hong Zenisek from the Brooklyn City School District introduced their 2010 and 2011 (respectively) Chinese Bridge Summer Camp for American high school students. Through these trips to China, sponsored by Hanban and the Confucius Institute at CSU, students experienced authentic Chinese culture in an authentic Chinese language environment, boosting their interest and confidence in learning Chinese.
Finally, students from nine school districts in the Cleveland metropolitan area offered exciting performances demonstrating various aspects of Chinese culture that reflected the students'increasing understanding of Chinese culture and language.