CONFUCIUS INSTITUTE NEWS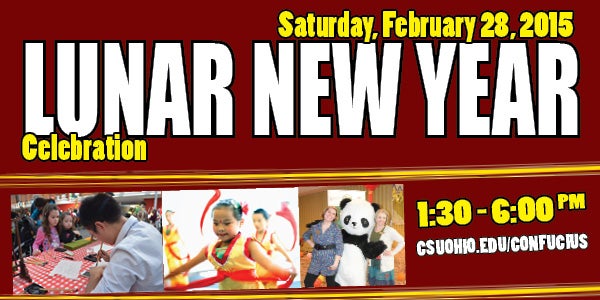 Join the Confucius Institute at Cleveland State University, Asian Services In Action, Inc., the Chinese American Faculty & Staff Association,  Cleveland Asian Festival, the Cleveland Contemporary Chinese Culture Association​, the Chinese Professionals and Entrepreneurs Association, the Cleveland Public Library, Media Design Imaging​,  OCA Cleveland Chapter, and Westlake Chinese School for a celebration of the Lunar New Year !
When: Saturday, February 28, 2015
Time: 1:30 – 6:00 pm
Where: Cleveland State University Main Classroom Building
Join us for a community event that is free and open to the public! Activities include Kungfu demonstrations, food tastings, Chinese calligraphy demonstrations, Chinese games, Chinese painting and drawing demonstrations, Chinese paper-cutting demonstrations, a photo exhibit, and much more!  To register for this event,  click here!
A performance by members of the Greater Cleveland community will also be held. Registration is required.
For more information about this event, including volunteer information, click: www.csuohio.edu/confucius/2015-lunar-new-year-celebration
The Confucius Institute at Cleveland State University Takes Part in Ohio's 2015 Chinese New Year Festival
1月31日,美国克利夫兰州立大学孔子学院在2015俄亥俄州中国节上隆重亮相。此次活动吸引了当地及周边近万名社区民众。中国节组委会向孔院赠送了"传承华夏文明 丰富多元文化"的牌匾。

吴伟克与中外方院长合影
全美著名汉语言学家、全美东亚语文资源中心主任、美国中西部美中协会会长,被誉为"美国孔子"的俄亥俄州立大学大学东亚语言文学系教授吴伟克(Galal Walker)来到孔院的展台前驻足欣赏,并与孔子学院中外方院长围绕当前汉语教学及文化交流等相关问题进行深入交流。

孩子们认真画脸谱

孩子们认真画脸谱
孔院准备了丰富的体验项目,包括游戏、乐器、书法等多种活动,受到民众热烈欢迎。拼图游戏、画脸谱等活动吸引了很多孩子,他们围坐在孔院的展台前, 稚嫩的小手紧握着还不能熟练使用的毛笔,发挥想象力,描绘出属于自己的独特脸谱。活动还吸引了一大批大学生,他们用熟练地写出中国古诗句,并用中文与孔院 教师交流,询问孔院的各种交换项目。

大学生体验书法
中国节活动持续了一整天,活动接近尾声时,展台前的学生和家长才依依不舍地离开,并表示希望下次活动孔院还能再次加入。
供稿 谢玉玲;供图 晋晓娜、李牧
---
Quick Link
---