CONFUCIUS INSTITUTE NEWS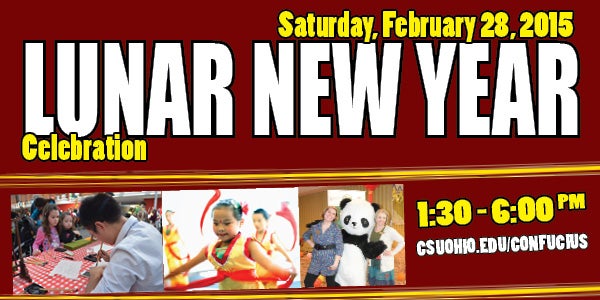 Join the Confucius Institute, the Chinese Professionals and Entrepreneurs Association, and the Chinese American Faculty & Staff Association, Cleveland Asian Festival, Asian Services In Action, Inc., Cleveland Public Library, OCA Cleveland Chapter, Westlake Chinese School, and Media Design Imaging for a celebration of the Lunar New Year at Cleveland State University!
When: Saturday, February 28, 2015
Time: 1:30 – 6:00 pm
Where: Cleveland State University Main Classroom Building
Join us for a community event that is free and open to the public! Activities include Kungfu demonstrations, food tastings, Chinese calligraphy demonstrations, Chinese games, Chinese painting and drawing demonstrations, Chinese paper-cutting demonstrations, a photo exhibit, and much more!  To register for this event,  click here!
A performance by members of the Greater Cleveland community will also be held. Registration is required.
For more information about this event, including volunteer information, click: www.csuohio.edu/confucius/2015-lunar-new-year-celebration
A delegation of faculty and administrators from Cleveland State University's academic partner, Capital University of Economics and Business (CUEB) in Beijing, traveled to Cleveland on October 16 for the CSU-CUEB Joint Forum on Sino-U.S. Economics and Business Development.
The event was jointly hosted by CSU's Confucius Institute and Maxine Goodman Levin College of Urban Affairs, which have served as bridges for learning and exploration of business opportunities between Cleveland and Beijing.
The forum included presentations and discussions among faculty from CSU and CUEB as well as members of the Cleveland civic community on key international business topics facing the U.S. and China, including currency regulation, the costs of health care and demographic shifts.
"There is major interest in exchanging knowledge and developing business opportunities in cities like Cleveland that may not be as visible as some coastal cities in the U.S.," said Dr. Zhou, director of the Confucius Institute at CSU and associate professor of finance in the Monte Ahuja College of Business.
The Greater Cleveland Partnership's Roman gave a presentation on opportunities for investment and collaboration with Cleveland businesses. The visit also included a tour of Cleveland Whiskey, a local distillery that is exploring distribution in China.
During the event, educators shared that CSU's Levin College of Urban Affairs and CUEB will collaborate on research to address how industrial cities can best weather economic trends. Last year CUEB named CSU President Ronald M. Berkman to the advisory committee for its Academy of Metropolis and Economy Development. Dr. Berkman, who has an academic background in urban affairs, has visited CUEB's Beijing campus.
The partnership has also created student exchange opportunities, and plans are in the works for continued visits to both campuses.
"We are going to be working together to examine some pressing challenges facing cities in the U.S. and China, including supporting regional economies, addressing pollution and maintaining infrastructure," said Dr. Hill, dean of the Levin College.
The Confucius Institute at CSU, which opened in 2008, offers Chinese language, cultural and educational resources to the public through courses at the University and programs within 26 area K-12 districts, including at Cleveland Metropolitan School District's Campus International School on the CSU campus.
---
Quick Link
---