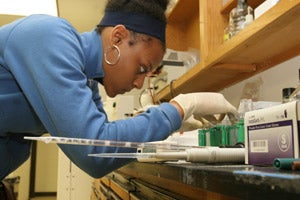 This state-funded scholarship program awards scholarships (between $1,500 and $7,000 per year) to students in science or engineering who are interested in bioscience or healthcare entrepreneurship. Through local organizations, e.g. BioEnterprise, the Cleveland Clinic and JumpStart, students are exposed to the vibrant entrepreneurial environment in Cleveland and are encouraged to consider careers in high-tech, biotech, and healthcare based start-up companies.
Who can apply?
Application requirements will 
You must:
Be a Cleveland State University student, enrolled Fall 2017
Be an Ohio resident
Be a new transfer or a continuing Choose Ohio First student entering junior or senior year
Be a College of Science and Health Professions or College of Engineering Major in a health or bioscience related field such as chemistry, biology, health science, biomedical engineering, biomedical physics, etc.
Have a grade point average of 3.25 or higher
Be committed to the Choose Ohio First program requirements
Note: Students on full scholarships are not eligible.
What are the program requirements?
Choose Ohio First Scholars will be encouraged to engage in three activities during the award period:
Research Experience—an independent research project in the laboratory
Internship/Co-op Experience—an immersion experience in industry or a working laboratory
Entrepreneurial Experience—mentoring by local science entrepreneurs, bioscience business incubators, or start-up companies
How do I apply?
The application for transfer students will be posted shortly.  Continuing Choose Ohio First students who wish to enter the Technology Entrepreneurship track should contact:
Dr. Nolan Holland
Director: Choose Ohio First Program in Technology Entrepreneurship 
Department of Chemical & Biomedical Engineering Fenn Hall, FH 455
2121 Euclid Avenue
Cleveland State University
Cleveland, OH 44115